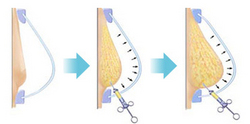 It allows women to recover their natural breasts without another surgery and with the enormous benefit of near-normal sensation in their new breasts and nipples
Miami, FL (PRWEB) October 6, 2010
The last thing a woman who had a mastectomy or lumpectomy wants, is another major surgery. Dr. Roger K. Khouri MD, FACS has developed a way to give breast cancer patients who have lost their breast(s) or part of their breast to cancer, their breasts back. The technique is a revolutionary, minimally-invasive reconstructive alternative using an external expander called Brava, a comfortable soft gel-like bra, followed with grafting the expanded mastectomy area with liposuctioned fat . The procedure allows women to recover their natural breasts without another surgery and with the enormous benefit of near-normal sensation in their new breasts and nipples.
Although nearly 200,000 women in the US are projected to get breast cancer and suffer a partial or total mastectomy this year, Dr. Khouri's groundbreaking development in reconstruction offers women an alternate path to recovering back their lost breast which is less painful, less stressful and much more natural.
Dr. Khouri invented Brava almost 10 years ago. However, Brava was solely used for cosmetic breast enlargement purposes in the past. Since then 70,000 women have benefited from his invention. Now Dr. Khouri is revolutionizing breast reconstruction for cancer patients using Brava. "I was performing a breast augmentation on a small-chested patient and it occurred to me that if I could build larger breasts for her, I could build an entire breast for a breast cancer patient", states Dr. Khouri. "It has become my passion and I see how it is changing women's lives." Dr. Khouri also uses this same new procedure for cosmetic breast augmentation with fat transfer.
This new micro-fat grafting procedure begins with the patient wearing the Brava bra, to prepare the recipient breast. The patient wears the Brava, while sleeping, for 3 to 5 weeks prior to the first grafting session.
Not only does Brava expand the skin from the outside, it also has the effect of regenerating an edema-like breast mound through the stretch expansion of tissues and nerves.
Brava also increases the blood flow to the mastectomy scar and improves the radiation effect. This does two important things, which are unique to this technique:
1. It creates an adequate vascular matrix into which the liposuctioned fat is later injected.
2. It allows the patient to keep almost normal sensation in her breasts and nipples.
The procedure is done as outpatient, often under local anesthesia and sedation, and has minimal recovery time. Unlike traditional methods, it involves no incisions, no new scars or foreign objects, yet it recreates an entire, natural feeling breast.
Although liposuction and fat transfers have for years been used to tweak or fine-tune implant or tram flap surgery, this innovative procedure is the very first that facilitates reconstruction of an ENTIRE breast from fat with no major surgery. No longer are the alternatives now limited to the traditional surgery-intensive implant or flap methods which inflict major trauma and scars.
Dr. Khouri conducts fat graft courses where he trains plastic surgeons from around the world on his innovative breast techniques. His upcoming course will take place in Miami on October 30, 2010.
Dr. Khouri has the world's best documented experience on the subject. Dr. Khouri's work was just awarded the best scientific achievement at the Annual Meeting of the European Association of Plastic Surgeons (EURAPS) and he will be delivering his presentation and receiving the award at the 2011 Annual Meeting of the American Association of Plastic Surgeons.
Patients are available for Interviews / B Roll is available
http://www.MiamiBreastCenter.com
###