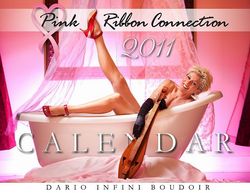 Dario Infini is a master at capturing the beauty of women
Indianapolis, IN (Vocus) October 12, 2010
October is National Breast Cancer Awareness Month and boudoir photographer Dario Infini and the Pink Ribbon Connection are doing their part to raise funds and raise awareness in a unique way. The breast cancer organization and Dario Infini have teamed up to create a boudoir style calendar, featuring breast cancer survivors and their stories with proceeds benefiting women who do not have the funds to battle the disease.
Although shooting boudoir style photography is nothing new to Infini, the experience of shooting this calendar and being in the presence of so many strong, resilient women was a once in a lifetime opportunity.
"Dario Infini is a master at capturing the beauty of women" said Dori Sparks, Executive Director of the Pink Ribbon Connection. "He is able to work his magic and show us both the inner and outer beauty of these twelve survivors. The women in this calendar felt pampered and comfortable as they worked with Dario to get the perfect shot to fill these pages. Thank you to Dario Infini for his patience, sensitivity and deep appreciation for the female gender as a whole and these lovely 'calendar girls', in particular. Dario has a gift and we are so thankful he shared his amazing talent with Pink Ribbon Connection."
The calendar can be purchased from the Pink Ribbon Connection for $25 each, but the ability to donate to this charitable cause does not stop there. For every boudoir photography session, totaling $500 or more, booked with Dario Infini in October 2010, 10% of those sales will be donated to the Pink Ribbon Connection. Schedule your session and feel like a supermodel for a day, with photographs that will last a lifetime.
For more information about Dario and his services, please visit http://www.DarioInfini.com. He is currently booking placements for boudoir photography shoots nationwide, along with his local studio in Indiana. For more information about the cities and dates of the tour stop, please visit http://www.darioinfini.com/tour.html
###