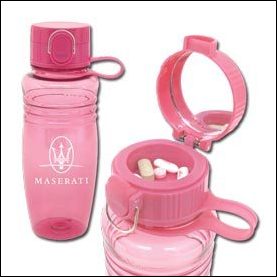 This product really shines above the rest because a percentage of profits from the sale of this promotional item is donated each year for cancer research
Sherwood, OR (PRWEB) July 18, 2006
Promopeddler.com announces the top pink promotional products for corporate branding in support of breast cancer awareness. According to researchandmarkets , creative event marketing and sponsorship strategies allow corporate communications professionals and their organizations to create unique approaches to showcase and differentiate their products/services, build brand equity and increase sales.
"Corporate sponsors of walks, golf events and community fairs are looking for new products to give away and increase brand association," remarks Dale Kirby, The Ideas Guru and promotional product blogger. "This year the promotional product industry has exploded with items manufactured in the color pink for this powerful campaign. Awareness programs occur throughout the year now and not just in October which is designated Breast Cancer Awareness month"
The selection process was based on relevancy, functionality, and price. Visit the breast cancer awareness products at Promopeddler to see the featured items.
For effective use of branded items to promote the message, a small promotional glass magnet is perfect for monthly reminders of breast self exams. It is packaged in a small pillow pak with a great imprint area for the sponsoring company's logo. "This product really shines above the rest because a percentage of profits from the sale of this promotional item is donated each year for cancer research," beams Ms. Kirby.
The most innovative new product goes to a customized pink water bottle with a secret storage area in the cap featuring a compact mirror, secure latch and enough space for money, make-up and pills.
The winner for brand visibility and dollar value is a custom printed pink tote bag with a large imprint area to feature the logos of many sponsoring organizations. The pink bag has long straps to sling over the shoulder and is sturdy enough to carry lots of goodies. It is the perfect, affordable tote for recipients participating in a walkathon with multiple sponsors.
At Promopeddler.com promotional consultants understand the importance of branding for corporate, entertainment and community events and are available to help customers throughout the entire purchasing process. Orders can be produced in as little as 5 days. Service and timely delivery is the trademark specialty of Promopeddler.com.
About Promopeddler.com
Promopeddler.com, the largest online promotional products catalog, is featuring a special for the three breast cancer awareness promotional products mentioned. Promopeddler.com maintains an extensive, low-priced, quality product line, along with fast shipping and a focus on personalized customer service. Promopeddler.com just received the Spirit award for the 4th fastest growing ASI distributor in the industry for 2006. Last week the company was awarded, for the second year in a row, a position as one of the top 15 fastest growing privately held companies in Oregon by the Portland Business Journal. Promopeddler.com can be contacted through its website at Promotional Products or toll free at 1-800-455-1350.
###