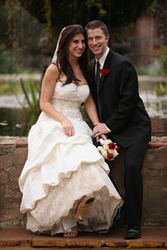 It was amazing and refreshing to me that in today's society there remained a couple that had never even seen each other unclothed. It was such a unique situation that the results of Erin's surgery would not be seen by her fiancé until their wedding night
Newport Beach, CA (Vocus) February 11, 2010
In the present time of women augmenting their bodies in an attempt to draw more attention and where sexual promiscuity seems to be the norm, one young woman stands apart from the crowd. Erin Wade, Orange County, Calif., decided to keep the results of her breast augmentation concealed until her wedding night where her new husband would be seeing her body for the very first time.
Erin has been thinking about having her breasts augmented since high school. She has always been a confident girl. As the years progressed, it stayed on her mind and, although she still wanted to have the surgery, there was something holding her back. Unlike other girls who have breast augmentation in hopes of attracting a man, Erin wanted to wait until she had found her future husband first in order to see how he felt about her having the surgery.
"When I first met Gavin, we had an unmistakable connection and in a few short months, when we were getting a more serious, I asked him how he felt about me having a breast augmentation. We had both decided to wait for marriage to be intimate and although he had not yet seen my body, I wanted to make sure he was alright with the decision," says Erin.
Eating right and working out 5 days a week, Erin has always treated her body like a temple. She chose her plastic surgeon, Dr. Cruise, with the same care by thorough research and a strong referral from Gavin's relative who had surgery with Dr. Cruise.
Upon first meeting with Erin, Dr. Cruise, Newport Beach, Calif., was struck by her strength and confidence that was mixed with an innocent vulnerability that is rarely seen in a breast augmentation patient. Erin was apprehensive and emotional about the exam as it was very important to her that the only man to view her body should be her husband.
"Erin's consultation was quite different from all other, soon to be married, couples," remembers Dr. Cruise. "It was clear they were madly in love. But, beyond that, you could tell they really got along well and had a very deep respect for each other. I remember being almost shocked when Gavin, her fiancé, left the room during the breast exam. Why would he leave?"
Typically in most consultations, the fiancé wants to be there to help mutually decide on the best implant shape and size. While initially puzzled, after the patient coordinator privately told Dr. Cruise about Erin and Gavin's decision to remain concealed to each other until marriage, he was touched by the sweet sentiment and strong commitment to their morals.
"It was amazing and refreshing to me that in today's society there remained a couple that had never even seen each other unclothed. It was such a unique situation that the results of Erin's surgery would not be seen by her fiancé until their wedding night," says Dr. Cruise.
Erin is thrilled with the results of her surgery. Feeling more confident and having fun shopping for new clothes are just couple of examples of how she was enjoying her new body.
"Of all the things I was enjoying about having the surgery done, the best part was showing off my new body to my husband the night of our wedding. We had both waited for marriage, so this was a special moment. When he saw me, I will never forget the look on his face…The only word he managed to say was: 'Wow,'" remembers Erin with a sparkle in her eyes.
Both Erin and Gavin as photographers thrive on capturing the intimate snapshots of the most important moments in people's lives – weddings and engagements are their favorite. They wanted their wedding to be special as well.
When all was said and done and both Erin and Gavin look back at their wedding, they are proud of what they have accomplished and look forward to spending the rest of their lives embracing romance and enjoying each other.
See more pictures of Erin and Gavin.
To schedule an interview with Dr. Cruise or Erin Wade please contact:
Cristin Stone
Phone: 949-644-4808
About Joseph T. Cruise, M.D.
Joseph Cruise, M.D. a board certified plastic surgeon in Newport Beach, CA, began his career as a burn surgeon reconstructing disfigured burn victims; restoring human form to bodies and faces. He has since dedicated his practice solely to cosmetic surgery and educating the cosmetic patient. This dedication and focus is clearly evident in the comprehensive educationally based web site he manages and the concierge-like customer service his patients receive. Experience and predictably good results have earned him the distinction of being one of the busiest plastic surgeons in Orange County. Extensive information including numerous before and after pictures can be found at http://www.CruisePlasticSurgery.com including all face, body, and breast procedures. Also included is an elaborate section for Dr. Cruise's out-of-town patients who fly in from all over the world.
###