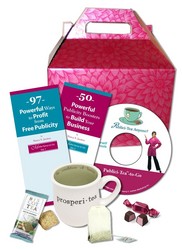 My bundle just arrived, and I can't wait to play with my Publici-toys.
Bellevue, WA (PRWEB) December 3, 2008
Nancy S. Juetten, the founder of Main Street Media Savvy (http://www.mainstreetmediasavvy.com ), has launched a fund raising program to benefit women newly diagnosed with breast cancer and support business owners seeking free publicity.
Publici-Tea™-TO-GO! is a do-it-yourself (DIY) publicity gift bundle delivered in a hot pink tote box. It is filled with tea, Seattle Chocolate Company truffles, Biscot-Tea™, tips, and tools to help people learn how to get known as an expert, pitch an article the media can't resist, and use other resources to earn their own publicity.
"Business owners can realize DIY publicity success with greater ease in the time it takes to enjoy a really good cup of tea in exchange for a modest price of $57," Juetten explained. Ten percent of the net profits from year-round sales will be donated to NW Hope and Healing (http://www.nwhopeandhealing.org.)
"Now more than ever, time and budget challenged business owners need access to affordable, time-tested and proven tips, resources, and ideas to guide them to build the buzz about how they are serving the marketplace. Publici-Tea™-TO-GO! gift bundles engage sight, sound, scent, touch, and taste. They invite recipients to embrace and act on the information to achieve quality media results," Juetten said.
NW Hope and Healing is a non profit that delivers healing baskets to women newly diagnosed with breast cancer. These baskets are filled with items such as chocolate, lotions, and teddy bears to encourage women at a critical time in their lives. NW Hope and Healing also provides funding for groceries, childcare, gasoline, and emergency rent for women waging the battle of treatment and recovery. Juetten experienced her own breast cancer scare in 2002. "I know the anxiety that accompanies a potential breast cancer diagnosis, and I want to do something to support other women in their time of need," she said.
Customers are already raving about the product.
Lora Canary, MHA, founder of EverydayOasis.com writes, "The Publici-Tea™ Gift Bundle is so much more valuable than I imagined when I ordered it. Besides the beautiful packaging, the sheer number of 'use it right now!' tips, techniques, ideas, and information was amazing. I started listening to the CD like I do most others (while multi-tasking) and had to stop and get out paper and pen and start taking notes. It's like getting a brain-full of PR real world guidance in a pretty little package with chocolate, Biscot-Tea cookies and a tea cup. And you get to support a great cause at the same time . Relax and enjoy the tea while you listen to the CD but keep a notebook and pen handy."
Leslie Evans, founder of Calm by Leslie, wrote in to express her delight with her gift bundle. She said, "My bundle just arrived, and I can't wait to play with my Publici-toys."
Juetten launched her public relations and DIY publicity information products company in 2001. Her niche is serving business owners who provide comfort and joy products or services that have the qualities to one day earn Oprah Winfrey's attention. Today, the business is strong enough to make giving back an ongoing priority. Juetten is quick to point out that DIY publicity is the method she has applied to grow the company to its current level of success.
Interested customers can purchase Publici-Tea™-TO-GO! gift bundles by visiting http://www.publiciteatogo.com. The first 100 gift bundle buyers will also receive a Zook Hook purse hanger (zookhooks.com) as a special bonus.
Those interested in sampling Juetten's DIY publicity advice before they buy can tune in to a free teleseminar on December 4, 2008 at 10 a.m. PST with PR Leads Founder Dan Janal to learn how to make the most of press releases in today's digital age. Visit this link to sign up for the call or gain access to the MP3 audio file after the fact: http://www.prleads.com/pressreleaseclass.
About Main Street Media Savvy:
Main Street Media Savvy is a DIY publicity blog that offers business owners tips, resources, success stories, resources, and a family of information products - including the new Publici-Tea™-TO-GO! gift bundle. The blog's goal is to help business owners everywhere get seen, heard, and celebrated in their own backyards and beyond through the power of DIY publicity. Visit mainstreetmediasavvy.com to learn more.
Contact: Nancy S. Juetten, 425-641-5214
###