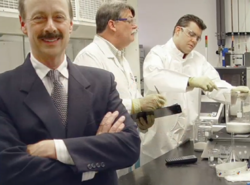 Birmingham, MI (PRWEB) October 25, 2012
Dr. Lee Roy Morgan is President of DEKK-TEC and the former chairman of pharmacology at Louisiana State University Medical Center. He has partnered with CureLauncher to provide the critical funding needed to advance the new breast cancer drug, abbreviated name DM-CHOC-PEN.
CureLauncher is the only crowdfunding platform dedicated to funding National Institutes of Health-caliber drug and medical device research. "We are focused exclusively on raising money for breast cancer research for the next 90 days and are proud to be supporting Dr. Morgan's important research", said CureLauncher founder and President Stephen Goldner, JD, RAC.
Those who donate make a direct contribution to advancing this breast cancer treatment and can follow Dr. Morgan's research on CureLauncher. "They have the opportunity to communicate with this leading researcher and become part of a community of supporters", said Vice President David Fuehrer. "As a two-time cancer survivor, I know how alone this disease can make people feel. Supporting each other is the only way to ensure no single person carriers the weight alone".
To learn more, visit CureLauncher.