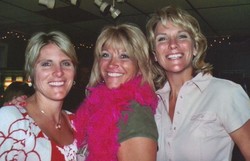 Vivacious Vivian, The Wig That Helped A Girl Through Breast Cancer
Cincinnati, OH (PRWEB) October 15, 2007
The Pink Ribbon Girls, a breast cancer support group geared towards young women, were recently the recipient of a donation, thanks to three sisters who are all breast cancer survivors.
Karen Sacksteder, of Sacksteder's Interiors, and her two sisters, Linda Nixon and Connie Acra, were all diagnosed with breast cancer within six months of each other. Connie and Linda underwent double mastectomies. Karen had chemotherapy treatments and she lost all of her hair.
The sisters wanted to give back to the group that helped them through their breast cancer diagnosis - the Pink Ribbon Girls. The sisters used humor as part of their fundraising strategy by selling Bodacious Boas. Karen had found that these bright, fluffy, pink boas have helped take the edge off during her chemotherapy treatments and she celebrated the end of a difficult and terrifying treatment with pink boa parties.
"Laughter is the best medicine, so I began to share this vision with others," Karen said.
The pink Bodacious Boas have brought laughter through tears and strength through pain for many a cancer patient and their families. They share their story with you to give courage to others. For more information, please visit http://www.sackstedersinteriors.com .
About Karen Sacksteder:
As CEO and owner of Sacksteder's Interiors and Design Group for over 21 years, Karen recently became a widow. Her husband of 30 years died just one year prior to her diagnosis. As an upcoming author and a cancer survivor, Karen has a book, due in November 2008, on the humorous side of breast cancer. Part of the proceeds of her new book, "Vivacious Vivian, The Wig That Helped A Girl Through Breast Cancer," will go to the Pink Ribbon Girls. Karen's business, "Sacksteders Design Group was recently certified as a Women's Business Enterprise for the National and the Southeast Council for minority, women-owned businesses. Karen has been featured by the Wall Street Journal and Redbook Magazine.
About Pink Ribbon Girls:
Pink Ribbon Girls are young breast cancer survivors, who are encouraged by their shared experiences to educate and inspire others to grow and live beyond breast cancer.
Contact:
Kathy Smith
859-801-7185/ 859-689-5205
kathyasmith @ fuse.net
fax:859-689-7244
###