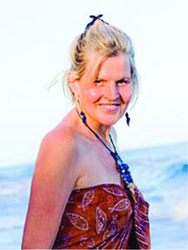 "Pelicans, Coconuts & Butterflies is the 'Eat, Pray, Love' of breast cancer," says Debra Secunda, President, Rawfood DVDs.
Rincon, Puerto Rico (PRWEB) June 16, 2010
Aviva Publishing today announces the worldwide availability of author and humanitarian, Ani Kaspar's new paradigm-shifting book "Pelicans, Coconuts & Butterflies: Conquering Cancer with a Life of Soul." With the fierce determination of a Wall Street warrioress and the bold heart of a woman destined for humanitarian efforts, Ani Kaspar reveals the inhumane nature of conventional cancer diagnosis and treatment while sharing an intimate journey of self-discovery, world travel and soul exploration. As Ani seeks a humane cancer cure, in a world seemingly committed to suppression of the very treatment she seeks, the reader shares her voyage of hope, inspiration, fortitude and healing.
"Simply put, this wonderful book is to live for." – Jeff Brown, bestselling author of "Soulshaping: A Journey of Self-Creation."
"What an inspirational story and woman! Ani Kaspar is a living testament to overcoming obstacles, thinking outside the box, and never giving up. 'Pelicans, Coconuts & Butterflies' is a must read!" – Kate Raidt, bestselling author of "The Million-Dollar Parent."
"Any woman diagnosed with breast cancer will find a wealth of compassion, information and celebration in 'Pelicans, Coconuts & Butterflies." – Ralph Moss, PhD, Founder, Cancer Decisions.
"Pelicans, Coconuts & Butterflies" chronicles Ani's challenges with conventional western medicine, insurance companies, and her intensive research into alternative and complementary treatments for breast cancer. As she strives for total healing, Ani's old life crashes down around her, only to nourish a new and fertile ground for a blissful, beauteous life - a life of authentic soul. "Pelicans, Coconuts & Butterflies" is a heartfelt memoir chronicling Ani's passage from the darkest dark to transcendent light. The reader is transported along with her, loving every moment of an intimate and amazing journey.
"A long time has passed since I've read a non-fiction, prose book that is so poetic and so beautiful – surprisingly so considering its ugly topic. The fear, pain, questioning, and hope that fills a woman with breast cancer is an impossible thing to understand without suffering from the dis-ease oneself, and yet Ani Kaspar brings us as close to understanding it as I think possible. Her ability to share honestly her experiences and emotions in such a revealing and invigorating manner makes this book simply astonishing." – Tyler R. Tichelaar, Ph.D., author of award-winning "Narrow Lives."
Along with Suzanne Summers, author of New York Times bestseller, "Knockout: Interviews with Doctors Who Are Curing Cancer," Fran Drescher, bestselling author of "Cancer Schmancer," Melissa Etheridge, recent lead sponsor of the Noreen Fraser Foundation, and Michael Moore, controversial documentarian, Ani hopes her personal experience of the current American medical model in the 21st century will empower and inspire others to also demand the very best treatment options. Her commitment to this goal lead her to found Compassionate Cure for Cancer ®, a grassroots movement that invites the conventional medical diagnostic, research and treatment community to develop and deliver now – to us their patients – a compassionate cure for cancer. Ani's call to action is supported by her information-rich website, http://www.PelicansCoconutsandButterflies.com.
"One day with your help, cancer will never again touch our lives. Together we can succeed in preserving health and well-being for each and every person in our world and for future generations to come," says Ani. "I encourage you to explore the informational, healthy living resources on our website and to introduce everyone you know to Compassionate Cure for Cancer ®. If you have suggestions we might share with others, please gift us with your vibrant voice."
In "Pelicans, Coconuts and Butterflies," Ani also shares with us statistics and research on a number of cancers. For example: one in eight women will develop breast cancer in the next 10 years; the incidence of prostate cancer has risen 258% in American men; and about 75% of the current annual incidence of breast cancer in the U.S. is caused by earlier ionizing radiation, primarily from medical sources. Like Michael Moore in "Sicko," Ani discusses how the allopathic health- care community has lost sight of its original Hippocratic Oath – "First, Do No Harm." Like Elizabeth Gilbert, in "Eat, Pray, Love," Ani shares with us her deep rediscovery of resplendent life in the face of loss, and in Ani's case, in the face of impending death. She invites us to travel with her as she explores, love, life and profound transformation, while traveling the world in search of answers only her soul can gift her.
"Pelicans, Coconuts & Butterflies' is the Eat, Pray, Love of breast cancer," says Debra Secunda, President, Rawfood DVDs.
"Pelicans, Coconuts and Butterflies" is now available in hard and soft cover at Amazon.com, BarnesandNoble.com or via your local bookstore or library. For an autographed copy, go to Ani's website at http://www.PelicansCoconutsandButterflies.com to order your copy today.
About the Author: Ani Kaspar
Ani is a pioneering advocate of non-invasive, alternate cures for cancer. She's a humanitarian, seeker of truth and conduit for healing. Ani's humanitarian call to action "Compassionate Cure for Cancer" asks cancer patients worldwide to request the modern medical community to investigate and deliver natural, less invasive methods of treating and curing cancers. She is a four year thriver of intra-ductal carcinoma—the most prevalent breast cancer in the world. Today Ani consults, conducts educational seminars, workshops and retreats, and is a life coach and international speaker. After abandoning Wall Street in 2005, she founded BodyByBliss™, an international wellness consultancy. http://www.bodybybliss.com She is the creator of a unique self-exploration method called IS™ Intuitive Sovereignty. Ani is fifty-one years old and lives blissfully in Rincon, Puerto Rico with pelicans, coconuts and butterflies.
For more information about Pelicans, Coconuts and Butterflies, please visit http://www.PelicansCoconutsandButterflies.com or contact Jackie Barton, vpjackieb(at)yahoo.com, or call 321-331-7746.
Hard Cover, $24.95 U.S. ISBN 978-1-8904279-48
Soft Cover , $17.95 U.S. ISBN 978-1-935586-07-04
###