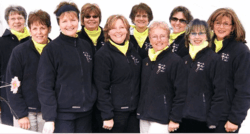 Breast Friends are doing important things to change lives. Just being part of that makes you feel good about what you're doing, which makes us work that much harder.
Winnipeg, Canada (PRWEB) October 28, 2011
When Gateway Publishing first received a call from Breast Friends back in 2004 they had no idea what lay ahead. At the time, Breast Friends was 10 ladies from small town Saskatchewan bound by the goal of producing a cookbook to raise money for breast cancer. Who would have thought their initial phone call would result in over $1 million in cancer-related donations? Fast forward seven years.
All four of the Breast Friends fundraising cookbooks have become bestsellers and the fifth cookbook in the series, Breast Wishes for the Men in our lives, is currently in production at Gateway Publishing with release set for the spring of 2012, just in time for Father's Day. In contrast to the first four cookbooks in the series, which were primarily dedicated to breast cancer fundraising, profits from Breast Wishes for the Men in our lives will be donated to prostate cancer research.
Like many Gateway customers, Breast Friends started with a long list of proven recipes and a few stories to illustrate the meaning behind their cause. Their first cookbook was a success, which led to another call from Breast Friends for a second cookbook and the trend continued with a third, a fourth and now a fifth Breast Friends fundraising cookbook. All of the Breast Friends cookbooks are National Best Sellers. For the Breasts of Friends, For the Breasts and the Rest of Friends, Breast Wishes from Breast Friends and Breast Wishes for Christmas each contain over 400 different wonderful recipes, pictures, cancer information, quotes, quips and great stories.
The Breast Friends success story started small and simply kept rolling, achieving heights hardly imaginable in 2004, thanks to this special group of energetic women. Just last year, Breasts Friends surpassed the $1 million mark in donations; they made a successful appearance on CBC's Dragon's Den (see final segment of video) and they became the subject of a feature story in France's Gourmand Magazine, an internationally known culinary publication.
Gateway Publishing has been there every step of the way for Breast Friends, doing everything from assembling cookbook recipes to managing the design of the book's cover, from printing the fundraising cookbooks on one of its state of the art digital printers to packaging and shipping the finished cookbooks to the Breast Friends' distribution centre in Foam Lake, Saskatchewan.
"We're there to help people achieve their dreams," says Rhonda Pineau, Gateway's Sales and Marketing Manager. "Breast Friends are doing important things to change lives. Just being part of that makes you feel good about what you're doing, which makes us work that much harder."
About Gateway Publishing Company Ltd.
Founded in 1965, Gateway Publishing is part of Gateway Group - a family-owned collection of business units specializing in community-based publishing and related products. Gateway Publishing produces cookbooks for fundraising, donor gifts, corporate recognition and family memories.
Gateway Publishing also offers the option of complete cookbook customization with full color covers, photographs and choices galore that enable fundraisers to produce that very special, unique fundraising cookbook. With Gateway Publishing, the process of putting together a cookbook is fast, easy and guaranteed to look fabulous. See examples on their Cookbook Fundraiser Blog.
# # #