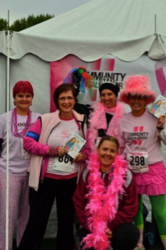 Not only was it great exercise in stretching those tight surgical areas - we laughed, didn't think about our troubles and got our heart rates up.
- Michelle Weaver Knowles, RNC & Breast Health Navigator
Gulf Breeze, FL (PRWEB) October 11, 2011
JuggleFit LLC is happy to report positive feedback from breast cancer patients on their experience with juggling for gentle exercise. The company is donating 10% of all purchases made on the jugglefit.com website during the month of October to Susan G. Komen for the Cure®.
Michelle Weaver Knowles, RNC and Breast Health Navigator at Community Medical Center in Missoula, Montana, contacted JuggleFit founder Heather Wolf earlier this year to inquire about DVDs for her breast cancer support group. "People often see the benefits juggling can have for their specific organization even before I can," says Heather. "Michelle opened my eyes to ways that juggling might help breast cancer patients." After learning to juggle with DVDs donated by JuggleFit, Michelle remarked, "Not only was it great exercise in stretching those tight surgical areas, we laughed, didn't think about our troubles and got our heart rates up."
Chemotherapy for breast cancer patients comes with a host of side effects that include numbness and tingling in hands and feet, neck and shoulder issues, and weight gain. Some doctors suggest that gentle exercise may help lessen the impact of these side effects. Since juggling is a no-impact aerobic activity that improves coordination, it may make it an attractive exercise option for breast cancer patients. "Building upper body strength and coordination prior to surgery has also been recommended by physicians," says Heather, "so it's a good idea to ask your doctor about beneficial exercise options soon after diagnosis."
Heather is hopeful that juggling might also help fight "chemo brain" or what many know as "brain fog." A study by researchers at the University of Hamburg in Germany found increased levels of gray matter in subjects' brains after just seven days of learning and practicing juggling. "Many people report that juggling improves their focus and concentration at work, in school, or in sports," says Heather. "If it could also help minimize the brain drain of chemotherapy, that would be a wonderful thing."
Heather donated Juggle Your Way to Fitness Beginner Level DVDs to each member of Michelle's support group and anxiously awaited feedback. "One day I noticed some women posting on JuggleFit's Facebook page, thanking us for the DVDs and talking about how much fun they had with them in the support group. I was ecstatic that I could provide some extra laughs and smiles along with exercise to these amazing ladies that are going through so much."
About JuggleFit LLC
JuggleFit LLC is the producer of the Juggle Your Way to Fitness DVDs, which teach juggling in a simple way and provide at-home workouts for brain and body fitness. The company has taught thousands of people to juggle and lead a healthy lifestyle through its live classes and workshops. JuggleFit LLC is also the creator of the Shake a Snack and JuggleFit Tracker apps for iPhone and iPod touch. JuggleFit DVDs and products are available at http://jugglefit.com.
JuggleFit founder Heather Wolf is available for interviews and on-site demonstrations of the JuggleFit program. Contact Heather at (850) 932-5570 or media(at)jugglefit(dot)com to request a DVD to review.
For further information please visit the JuggleFit Press Room at http://media.jugglefit.com.
###