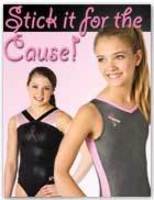 Breast cancer affects everyone, no one is untouched
Reading, PA (PRWEB) October 24, 2009
GK Elite Sportswear, L.P. is proud to unveil its 2009-2010 line of leotards supporting Breast Cancer Awareness. For the sixth year, GK is taking a stand against breast cancer. The Company's 2009-2010 collection of breast cancer apparel features tank leotards with Pink Ribbon embellishments and designs. GK is a proud sponsor of the National Breast Cancer Coalition Fund (NBCC), and will contribute 5% of the sales of each leotard purchased from its collection to the NBCC.
"Breast cancer affects everyone, no one is untouched," stated GK Marketing Manager Kelly Christman. "That's why as a market leader in gymnastics, we feel it is our responsibility to help educate our athletes about breast cancer. It is our hope that the power of education will save lives." According to the American Cancer Society one in eight women will get breast cancer.
GK'S 2009-2010 line of Breast Cancer Awareness apparel includes three In-Stock leotards embellished with the Pink Ribbon in support of the cause. These special leotards are available through June 2010 and are perfect for breast cancer themed meets and events, and can be worn with pride afterward. Each year GK continues to add more styles to promote this worthy cause. This dazzling and inspiring collection of leotards is a perfect complement for breast cancer events. GK's Breast Cancer Awareness apparel is available online at our website:
http://blog.gkelite.com/blog/gk-elite/0/0/gk-announces-2009-2010-breast-cancer-awareness-leotards
GK's Breast Cancer Awareness Workout leotards are In-Stock and ready to ship within 3-5 days. Fans will love the apparel and show their support, which will raise money for the cause.
GK is the world's leading supplier of gymnastics apparel and is recognized around the world for superior variety, quality, fit and service. GK is proud to have been chosen by adidas® to manufacture the US National Team Competitive apparel for USA Gymnastics since 2000 and is the sole producer of adidas® brand gymnastics apparel worldwide. Based in Reading, Pennsylvania, Elite Sportswear, L.P., the company behind the GK brand, continues its commitment to American-made quality and continuous innovation in designs for Gymnastics, Cheerleading, Dance, and Drill Team apparel. For more information about GK Elite visit http://www.gk-elitesportswear.com or call Kelly Christman at (610) 921-1469.
National Breast Cancer Coalition (NBCC) is dedicated to ending breast cancer through the power of grassroots action and advocacy. NBCC increases funding for breast cancer research; monitors how those funds are spent; expands access to quality health care for all; and ensures that trained advocates influence all decision making that impacts breast cancer. Visit StopBreastCancer.org or call 202-296-7477
# # #