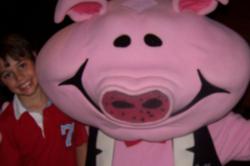 "So Tickled Pink meets Tickled Pink for all the right reasons!"
Athens, Alabama (PRWEB) September 28, 2012
LawLers Barbecue Express, a locally owned and operated chain of soon to be 8 barbecue restaurants, is tickled pink to be a Tickled Pink Sponsor of the 5th Annual Pink Elephant Luncheon this year in Athens. It will be held at the Athens-Limestone Events Center on Wednesday October 17, 2012 from 12:00 PM to 1:00 PM CDT.
The Pink Elephant Luncheon is a special time. Some very prominent business people and local celebrities will show off their agility in high heels. Guest speaker this year will be the co-founder of Vera Bradley, Patricia Miller. Proceeds from this luncheon will go toward the Pink Elephant Mammogram Scholarship fund and also directly to breast cancer research via Vera Bradley Foundation. The Pink Elephant Mammogram Scholarship Fund allows residents of Limestone County the opportunity to receive an annual mammogram regardless of whether or not they have insurance, and also in the event their insurance will not pay. Tickets are $30 each. You can sponsor one mammogram scholarship for $125. Lunch sponsorships are also available.
Jim Kelley, managing partner of LawLers Barbecue Express, says, "This was a perfect match for our company because, number one, we know there are probably women in the restaurant business right here in Limestone County unable to afford mammograms. We want to help support a cause like the Vera Bradley Foundation. And reason number two,our mascot is Tasty, the dancin' pig, a kind and gentle pig who is Tickled Pink to serve you. So Tickled Pink meets Tickled Pink for all the right reasons!"
He also added, "Tasty plans to atttend the luncheon, and asks all his friends and customers to help support this worthy cause.
For more information go to mypinkelephant.org, call Shelli Waggoner at 256-233-9236, or stop by any LawLers Barbecue Express and get a flier.