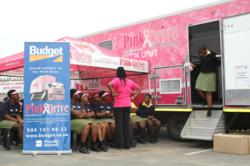 Our vision is to add to the mammography fleet in 2013. To us it's the proverbial elephant that must be eaten one bite at a time. The elephant is the R1 million, the bites are the $1 (or more) that will be donated by individuals
Johannesburg, Gauteng (PRWEB) November 27, 2012
Bidvest, sponsors of the Nedbank Golf Challenge, have introduced once again PinkDrive as their charity partner at the globally renowned golfing event in South Africa. The aim of the awareness drive will be to raise R1 million, which will be used to purchase a mobile breast educational unit. The unit will also travel across South Africa with the aim of detecting breast cancer and educating people on the risks and preventative measures of the disease, which is the second biggest cancer killer of women in South Africa.
"We are appealing to a million people to donate $1 (or more) through one of the payment portals on our website to fund the breast educational truck. We realise that many people give so much, all we ask is that you sacrifice just $1 (or more) and share this appeal," says Noelene Kotschan, Founder and CEO of PinkDrive.
Already in their third year of operations, PinkDrive is a South African non-profit charity that has reached just under 50,000 people.
Their two pink mammography trucks can be seen journeying the cities and rural plains of South Africa carrying digital x-ray equipment that have, to date, been used to scan the breasts of 4,395 women for breast cancer. The fuscia vehicles have become a symbol of hope for communities because women are afforded the opportunity to have their breasts examined for tumours by professionals at no cost.
"Our vision is to add to the mammography fleet in 2013", notes Kotschan. "To us it's the proverbial elephant that must be eaten one bite at a time. The elephant is the R1 million, the bites are the $1 (or more) that will be donated by individuals.
"I have faith in this campaign because I believe in the goodness of humanity. We already experience it every day".
The organisation carries two radiologists on its board. One of the specialists, Dr Ashwin Hurribunce comments, "PinkDrive is currently servicing 108 clinics on a rotational basis in Gauteng, which is the most densely populated region in South Africa. We have 79 more who have applied to use our services, these have been placed on a waiting list. The public sector cannot supply the demand and right now, neither can we. There is simply enormous need".
"We are partnering with the PinkDrive to raise awareness around breast cancer and encourage you to donate the $1 (or more) that is needed in order to purchase a mobile breast educational unit. We have donated pink caps to the PinkDrive in order to raise awareness throughout the tournament and to assist in making this a successful fundraising event" says Sofia Lanuza, Events and Marketing Manager for The Bidvest Group.
Ends.
About Pink Drive:
PinkDrive is a non-profit committed to improving breast cancer awareness, education, and providing and offering services to women across South Africa, particularly to those who do not have access to information on breast health. They currently have two mobile breast units, an education unit working in approximately 80 community health centers in Gauteng and a mammography unit, which operates at 3 community health centers in the Cape Town area, under the Tygerberg Hospital jurisdiction.
PinkDrive aims to provide affordable, convenient mammography services to women in the private and corporate sectors; and provide free scanning and education to disadvantaged communities via local clinics, community health centres and specified hospitals with no oncology facilities.