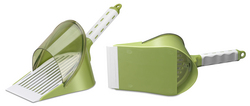 Chicago, IL (PRWEB) May 3, 2010
Veterinarian's Choice, LLC has created and introduced to the marketplace the BreatheFreeTM Litter Box Scooper, a unique product designed to help maintain the health and well-being of the person scooping clumpable cat litter made from clay. According to the company, the scooper reduces the amount of irritating dust created during the scooping process by as much as 98 percent compared to traditional scoopers. The BreatheFree scooper has a unique design consisting of a dust-catching hood, a solid litter chute floor and a small D-shaped opening through which the clean litter reenters the litter box. With the scooper's unique "Scoop and Tilt" technique, no shaking is required.
Scoopable cat litter is the most common type of litter box filler used today. Most cats are attracted to its texture. It performs very effectively helping to absorb the odor of a cat's urine and feces. However, warnings on the Material Safety Data Sheets* for most scoopable cat litters state that the dust created when handling the litter may be an irritant to the eyes, nose, throat and lungs. One can frequently taste the dust in the mouth and even clothing picks up the dust's odor. As the dust settles in the room, it often collects on surfaces in the area where the scooping is being performed.
Despite some manufacturers' claims that its litter is nearly "dust-free", a certain amount of dust is still produced and is clearly visible. In addition, testing has shown that some dust is so small in particle size that it cannot even be seen by the naked eye.
Veterinarian's Choice LLC is headed by two scientists. One is a prominent veterinarian who is a past-President of the Cleveland Academy of Veterinary Medicine. He has made numerous appearances on NBC news discussing pet health issues and has more than 37 years of experience in caring for cats . He shares his home with six cats. The second is an internationally renowned inventor and chemist with decades of experience in product development and has more than 30 patents to his credit. Together, these two experts have devoted more than 4 years to develop the BreatheFree Litter Box Scooper.
###