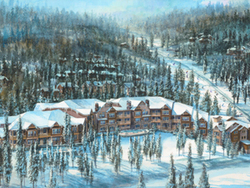 Breckenridge, Colorado (PRWEB) December 16, 2007
For the seventh year the Chevrolet U.S. Snowboard Grand Prix will return to Breckenridge, making it the fourth consecutive year the event opened its season at the resort. The event showcases world-class professional riders from around the globe with intense halfpipe sessions in Breckenridge's #1 rated pipe. The Grand Prix also serves as the only North American qualifier for The Arctic Challenge, hosted by snowboarding legend Terje Haakonsen in Norway.
Consistently voted as a top snowboarding resort by readers of Transworld Snowboarding magazine, pros like Steve Fisher and 2002 Olympic bronze medalist JJ Thomas call Breckenridge home. ResortQuest is excited to welcome these world-class athletes and provides over 400 Breckenridge vacation rentals in Breckenridge, just moments from the slopes at Peak 8 and on Main Street.
ResortQuest Breckenridge has been witness as snowboarding history has been written and rewritten at Breckenridge. The resort was one of the first in North America to allow snowboarding in 1985, then one year later, hosted the first world championships. ResortQuest has been providing quality Breckenridge vacation rentals in Breckenridge since 1996.
Last year, a crowd of 5,000 plus were on-hand to witness local rider Steve Fischer earn an automatic trip to the Arctic Challenge after landing a barrage of big tricks in the 30 foot tow-in quarterpipe during the Paul Mitchell Progression Session. This year, riders will have another chance to show their stuff in the invitation-only nighttime halfpipe event on Saturday, December 15 at 7 p.m.
ResortQuest offers a complete selection of Breckenridge vacation rentals and lodging package in Breckenridge and Keystone, just steps from all the adventure the mountain resorts have to offer. Guests can choose from deluxe hotel suites, 1-4 bedroom condominium and luxurious private homes in ski-in/ski-out or downtown locations. For more information on ResortQuest Breckenridge and their wide selection of vacation rentals, visit ResortQuestBreckenridge.com
For a limited time, ResortQuest Breckenridge is offering Lift and Breckenridge lodging packages starting at just $111 a night. Guests can choose from deluxe hotel suites, 1-4 bedroom condominium and luxurious private homes in ski-in/ski-out or downtown locations
ResortQuest, one of the nation's leading vacation rentals and resort real estate companies, provides a one-stop resource in North America's premier resort destinations, ResortQuest.com. ResortQuest is the largest marketer and management company of vacation condominiums and home rentals in the U.S. ResortQuest Real Estate is one of the nation's leading real estate companies focusing exclusively on resort properties, offering superior brokerage services in the country's premier beach, ski and golf destinations. For more information, visit ResortQuest.com.
# # #