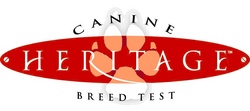 MMI's laboratory is committed to providing the highest quality canine DNA analysis. Our upgrade program will allow previous customers to dig deeper into their dog's DNA.
BELTSVILLE, Md. (PRWEB) June 23, 2008
"The extraordinarily positive response to our first product prompted us to continue our R&D efforts and to add more breeds," said Dr. Edwin Quattlebaum, Co-Chairman & CEO of MetaMorphix, Inc. "Our customers were our guide when we considered breeds to add to the list. Many wrote to us with suggestions. We are excited that we are able to make this sophisticated and complex technology simple to use."
The test uses state-of-the-art, DNA technology yet remains uniquely user-friendly. Like the previous version, the new dog DNA test kit includes a simple cheek swab that customers rub along the inside of their pet's cheek to collect cells. The swab is mailed to the company's lab for DNA analysis, with results coming back to pet-owners in about 4 weeks in the form of a frame-quality Certificate of DNA Breed Analysis.
The company will also offer an upgrade program for customers that purchased the original version of the test. Dr. Quattlebaum notes that "MMI's laboratory is committed to providing the highest quality canine DNA analysis. Our upgrade program will allow previous customers to dig deeper into their dog's DNA." Previous customers can order upgrades at http://www.canineheritage.com.
Veterinarians are also enthusiastic about the new test. "People rely on me to tell them what kind of dog they have. But, quite frankly, it is just a guess on my part. The Canine Heritage XL Breed Test will go a long way to take some pressure off veterinarians. It may even provide us with very useful information that can help us in developing individual nutrition plans, disease prevention, training programs and the like," explains Dr. Mike Hutchinson, a well-known veterinarian in the Pittsburgh, PA area. "I believe this test is the best DNA-based product available today because it is comprehensive and the sampling method is painless for the pet and easy for the dog owner. And do not forget – it's just plain fun to find out what your dog really is!"
Pet owners who adopt animals from shelters or rescues generally regard their pets as important additions to the family. Many want to know more than the shelter or rescue can tell them. The Canine Heritage XL Breed Test can give them the piece of the puzzle they are missing.
"Shelter and rescue dogs are very special to the people who adopt them. The background and unique stories of these pets are often a mystery," noted Betsy Saul, Senior Vice President of Petfinder.com. "How exciting that the new Canine Heritage XL Breed Test, now with over 100 breeds, can shed some light on these precious members of the family!"
About MetaMorphix, Inc.
MetaMorphix, Inc. is a life sciences company that uses DNA to improve animal wellness. Its wholly owned subsidiary, MMI Genomics, has more than a decade of experience in the area of canine DNA research. As a world-leader in the discovery and commercialization of DNA-based marker systems that enhance the ability to identify individual dogs, verify parentage, determine breed type and confirm gender, MMI Genomics has been at the forefront of developing technology and providing value-added services to the canine community. This unparalleled leadership continues to help protect the efforts of canine registries and support dog owners and breeders around the world.
Certain statements in this press release are forward-looking. These may be identified by the use of forward-looking words or phrases such as "believe," "expect," "intend," "anticipate," "should," "planned," "estimated," and "potential," among others. These forward-looking statements are based on MetaMorphix Inc.'s current expectations. The Private Securities Litigation Reform Act of 1995 provides a "safe harbor" for such forward-looking statements. In order to comply with the terms of the safe harbor, MetaMorphix Inc. notes that a variety of factors could cause actual results and experience to differ materially from the anticipated results or other expectations expressed in such forward-looking statements. The risks and uncertainties that may affect the operations, performance, development, and results of MetaMorphix Inc.'s business include but are not limited to; (1) unproven use of scientific information to develop or commercialize products; and (2) other factors that might be described from time to time in MetaMorphix Inc.'s periodic filings with the Securities and Exchange Commission.
For more information, go to http://www.canineheritage.com. To schedule an interview, contact Theresa Brady at tbrady@canineheritage.com or 301.575.2505