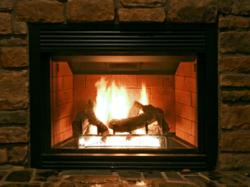 To ensure proper safety and maximize efficiency, it's crucial to have a periodic gas fireplace cleaning from a qualified inspector.
(PRWEB) September 24, 2011
Natural gas fireplaces make good sense. They allow for concentrated heat in high-traffic areas of a home, allowing homeowners to turn down the heat in other areas while also economizing energy.
However, if not properly maintained, gas fireplaces can be problematic. Homeowner's who don't take proper care of them can create fire hazards, jeopardize their health and damage the unit. To ensure proper safety and maximize efficiency, it's crucial to have a periodic gas fireplace cleaning from a qualified inspector.
Bremner Gas Services provides just the expertise homeowners need to keep their fireplaces running smoothly and efficiently. As a leading retailer of gas fireplaces for Toronto and the GTA, Bremner knows the units inside and out and understands exactly how to care for them.
Whether it's a vented gas fireplace, natural gas stove or a direct vented gas fireplace, Bremner's team of certified experts has the knowledge and equipment to perform high-quality fireplace maintenance. We're members of the Technical Standards & Safety Authority (TSSA) under the Fuels Safety Program.
It's vital to have any gas fireplace inspected and cleaned by trained professionals at least once a year. Otherwise, many different threats can arise. Failing to properly check and clean any debris, including bird's nests, spider's nests or webs, creates a fire hazard. Bremner's team can clean out those tough-to-reach areas.
Improperly placed logs can cause a carbon build up that hinders a fire's efficiency and performance. The experts at Bremner can properly position your logs to maximize indoor heat while reducing carbon emissions.
The Bremner team also inspects chimney gas termination caps. If not properly installed or fastened, it can allow water, cold or animals into a fireplace. Bremner Gas Services can help with countless other safety concerns, including checking for drywall and any other air contaminants around the fireplace.
A natural gas fireplace is an attractive addition to a modern home, as it can provide heat in a cost-effective and environmentally friendly way. However, maintenance is crucial and isn't done easily without a professional. Even the most diligent people may have difficult times navigating and understanding chimneys. Enjoy a clean and safe fireplace this season.
Book a professional inspection and gas fireplace cleaning with Bremner Gas Services today. Call (416) 773-0009 in Toronto and (905) 831-2498 in Durham to get a free, no-obligation quote. Bremner is offering a FREE HST exemption during September and October. To learn more about Bremner Gas Services and gas fireplaces, visit http://www.torontogasfireplaces.com/.
About Bremner Gas Services:
A division of Bremner Pool and Spa (Est. 1981), the company has expanded its offering to include the sales, service and installation of Direct-Vent Gas Fireplaces, Gas Stoves, Gas Inserts, Fireplace Cleaning, Piping for Gas Fireplaces & Appliances and Gas Line Leak and Location services for finer homes in and around Greater Toronto (GTA) and Durham, Ontario. Featuring trained and licensed gas technicians, we carry $5,000,000 in commercial insurance, workers compensation for our employees and certification by the Technical Standards and Safety Authority (TSSA). Trust Bremner for home Gas Fireplace and Gas Service needs. Contact us today for your free quote.
###