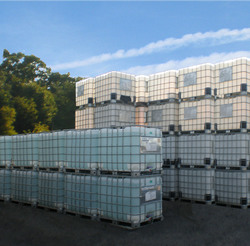 By recycling the tote, cost savings are passed on to our customers and we help the environment by reducing the need to dispose of used containers
Reading, PA (Vocus) September 28, 2010
Brenntag North America will offer users of DEF (Diesel Exhaust Fluid) a free service to pick up empty DEF totes (IBC's) from any previous supplier. Brenntag will offer a special price to replace the tote with TerraCair® Diesel Exhaust Fluid. By having a method to dispose of empty containers and receive a discount the customer benefits in two ways.
"By recycling the tote, cost savings are passed on to our customers and we help the environment by reducing the need to dispose of used containers" said Chet Murphy, Vice President Market Development for Brenntag North America.
As customer demand for Diesel Exhaust Fluid grows, so does the concern for disposal of used containers. DEF suppliers typically offer one-way delivery, leaving the burden of disposal on the customer who must pay to have the empty totes removed.
Customers who take advantage of this service from Brenntag can be assured that totes are quality checked, inspected and returned in tact with the appropriate fittings to meet their requirements.
Totes will be processed and filled with TerraCair® Ultrapure Diesel Exhaust Fluid at one of Brenntag's 100+ facilities which are audited to the highest quality standards for storage, handling and packaging of DEF.
Brenntag is the global market leader in full-line chemical distribution. Linking chemical manufacturers and chemical users, Brenntag provides business-to-business distribution solutions for industrial and specialty chemicals globally. With over 10,000 products and a vast supplier base, Brenntag offers one-stop shop solutions to more than 150,000 customers. The value-added services include just-in-time delivery, product mixing, formulation, repackaging, inventory management, drum return handling as well as extensive technical support.
Headquartered in Mülheim an der Ruhr, Germany, Brenntag operates a global network with more than 400 locations in more than 60 countries. In 2009 the company realized global sales of EUR 6.4 billion (USD 8.9 billion) with approximately 11,000 people.
TerraCair® is a trademark of Terra Environmental Technologies Inc. (TET), an indirect, wholly-owned subsidary of CF Industries Holdings, Inc.
# # #