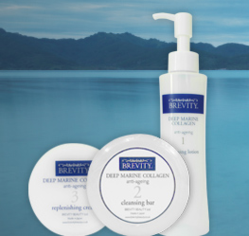 The products include ingredients which are all renowned for helping reduce fine lines and wrinkles, for diminishing pigmentation spots and firming the skin
Pontyclun, Cardiff (PRWEB UK) 31 August 2012
Looking young doesn't have to be a difficult chore, but it's important to get a good start with your anti-ageing regime.Brevity Beauty, a new cosmetic company from South Wales (UK), understands how important it is to look and feel your best, and they are proud to announce the launch of their new website and their innovative three step skin regime.
With a competitive market in skin care, Brevity has a lot of competition. However, founder Sue Jones along with business partner Chikako Tamamushi are confident that the unique ingredients that make up the three step skin care regime imported from Japan, gives Brevity Beauty an excellent chance at success.
Jones notes, "As we grow older, the natural collagen in our skin starts to break its bonds." She adds, "Many people are against invasive treatments."
Using the regimen provides skin with marine collagen without the need for invasive injections. Marine collagen produces excellent results because the collagen itself mimics closely the collagen in human skin, often eliminating the need for collagen injections.
The roots of the business was born out of a friendship between Sue Jones and Chikato Tamamushi who shared a passion for both Japanese theatre and quality skin care. In the Japanese theatre the tradition of heavy make-up required an excellent cleansing and moisturising system.
On a trip to Japan, Tamamushi came across a similar product when visiting her family in Japan. The product range being used contained marine collagen and was generating a huge following of people who saw incredible improvements in their skin. Jones and Tamamushi both have a background in the beauty industry and
after further research the Brevity brand was born, along with the three step skin care regimen.
The regime they created relies on three products, making up the three steps. A cleansing lotion that removes makeup, a clear cleansing bar with a net that generates a very soft luxurious foam removing any residual impurities and leaving the skin feeling totally cleansed and toned and finally, a replenishing, moisturising gel that reduces fine lines and wrinkles and helps diminish pigmentation spots leaving your skin feeling softer, plumper and radiant.
Users of this product have noticed the difference in the softness and texture in their skin, and are finding they can already see a reduction of fine lines and wrinkles.
As Jones and Tamamushi continued their research they found other ingredients, in addition to marine collagen, that could make their product even more effective. Ingredients such as licorice, geranium, Hyaluronic acid are included in order to help reduce pigmentation spots, fine lines, and wrinkles as it firms the skin.
It has been a long time in development, notes Jones. "it has been three years in development but we now have a regime that is incredibly effective at reducing fine lines and wrinkles and diminishing pigmentation spots to provide a more youthful appearance."
"The products include ingredients which are all renowned for helping reduce fine lines and wrinkles, for diminishing pigmentation spots and firming the skin." comments Jones.
And the name, Brevity? Jones fills in the blanks...
"Here at Brevity we are great admirer of Shakespeare and the name Brevity is derived from Polonius' speech in Hamlet where he stated "Brevity is the soul of wit". Our ethos is "Brevity is the soul of beauty". Brevity meaning brief, quick"
Brevity Beauty are currently giving away samples of their three step skin care regime via their social media channels on Facebook and Twitter to a few lucky followers.
"The samples are going really quickly" comments Jones. "We've been blown away by the response and the feedback we've had so far is wonderful. We're looking forward to staying in touch with our samplers and bringing them along this exciting journey with us. Launching a product like this into the UK is not easy but if we can build a passionate fan base around the first users then I'm sure we'll succeed".
With the support of their early users the future for Brevity looks bright. "We plan to take the three step regime worldwide. And we're are working on the development of night serums, eye care, hand and foot care and all over body care. We are also developing a mens range." says Jones.