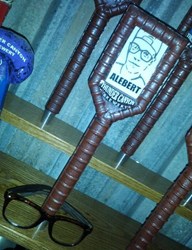 Tucson, Arizona (PRWEB) August 14, 2013
Following the death of one their favorite employees, Thunder Canyon Brewery chose to memorialize and honor their friend and coworker the best way they could -- by brewing beer.
In an unprecedented move, TCB owner Steve Tracey and the family of Albert Rich, have created a specialty brew to be crafted every summer. All proceeds will benefit a scholarship to the University of Arizona, the school Rich was planning on attending. Rich passed away in a biking accident while riding home from the TCB downtown location. Rich had worked on the brewery team for three months while also attending Pima Community College.
"Albert was just a great guy," Tracey said. "He was an important part of the family here."
The beer, named "Alebert," is a medium-bodied summer honey wheat beer that reflects the refreshing, funny, and outgoing nature of its namesake. This is one of many community outreach efforts that has made TCB a brewery Tucson residents have flocked to since 1997. For more about the company, please follow this link.
Family members were impressed with TCB's idea to create a beer and scholarship for Rich. Maggie Rich, a student at Arizona State University and older sister to Albert, said it was obvious to the family that her brother was an important part of the TCB culture despite working there for only a few months.
"I think it is absolutely amazing what they've done," she said. "It really shows how important Albert was to their team."
About Thunder Canyon Brewery:
Thunder Canyon Brewery Tucson opened in 1997 and is well-known for its award-winning craft beer and contemporary bistro-style cuisine. The brewery opened its second location in the heart of downtown Tucson in 2013. The downtown location boasts one of the largest selections of draft beer Tucson. For more, check out the Thunder Canyon Brewery website.
About Nuanced Media - Nuanced Media is a digital marketing and graphic design firm. The company specializes in strategic, multilayer marketing campaigns and efficiently crafted, user-friendly websites. Based in Tucson, the company has a variety of clients throughout Arizona, California, and Texas. For more information, please view [Nuanced Media.