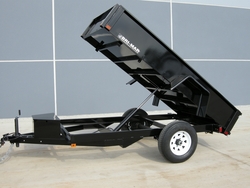 high sides, front panels and rear gates constructed of 14 gauge steel; 2.5
Chambersburg, PA (PRWEB) March 29, 2009
Bri-Mar Manufacturing, LLC has recently expanded their line-up of popular Rascal Dump Trailers for homeowners, small companies and start-up businesses.
The Rascal line of dump trailers was originally intended as a cost-conscious alternative trailer for the transporting and dumping of mulch, firewood, brush, debris, feed and other lightweight materials. These two new models give a wider range of choice for this level of trailer.
New models include the R508LP-3 and the R510LP-5. The R508LP-3 features a low profile 5' x 8' dump bed, 3,000 pound GVWR, 1.9-cubic yard capacity and four-inch channel mainframe. The R510LP-5 includes a low profile 5' x 10' dump bed, 5,000 pound GVWR, 2.3-cubic yard capacity and five-inch channel mainframe.
Both models feature 15" high sides, front panels and rear gates constructed of 14 gauge steel; 2.5" channel crossmembers, 12-gauge steel floors, 2" ball couplers, 2k Bulldog jacks, Dexter EZ-Lube axles and sealed wiring harnesses. Dump beds are lifted by an electrically powered Monarch hydraulic pump driving a 3" hydraulic cylinder. All Bri-Mar Rascal models include a Valspar powder coat finish available in either black or other colors on special order.
These new models extend Bri-Mar's existing Rascal line:

6' x 10' low profile dump bed, 7,000 GVWR, 3.5 cyd capacity
6' x 10' low profile dump bed, 10,000 GVWR, 3.5 cyd capacity
6' x 10' deckover dump bed, 7,000 GVWR, 3.5 cyd capacity
6' x 10' deckover dump bed, 10,000 GVWR, 3.5 cyd capacity
Supporting the superb quality of all Bri-Mar trailers is an industry- leading two-year structral warranty. Options include an Interstate marine battery, on-board battery charger, wireless remote and tarp kit.
Since 1995, Bri-Mar Manufacturing has been providing high quality products at an affordable price point. They continue to design value and durability into their diverse product lines: Hydraulic Dump Trailers, Equipment and Car Haulers, Tilt Trailers, Pick-Up Truck Dump Inserts and new Utility Trailers. Bri-Mar is one of the leading manufacturers of hydraulic dump trailers in the country. For more information or to find the Bri-Mar dealer nearest you, please call 1-717-263-6116 or visit http://www.bri-mar.com.
###