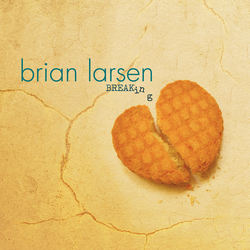 The songs on BREAKING are memorable, catchy, and meaningful… it's something that I am extremely proud of.
Baltimore, MD (PRWEB) April 30, 2009
Baltimore, Maryland based musician and producer Brian Larsen announced on April 30 that his debut solo album will be titled BREAKING. The album will be released worldwide on August 4, 2009.
As the album's sole songwriter, performer, and producer, BREAKING showcases the Baltimore, Maryland based artist in his most diverse and ambitious role yet. Each of BREAKING's thirteen tracks draw inspiration from Larsen's diverse group of influences, ranging from classic rock icons like Fleetwood Mac and Lou Reed to modern indie artists like Pinback, Okkervil River, and Death Cab For Cutie. "When I decided to make this album, I knew I wanted it to be an exploration of myself both as a person and as an artist," he mentions. "The songs on BREAKING are memorable, catchy, and meaningful… it's something that I am extremely proud of."
The new album, crafted by Larsen alone in his Baltimore studio, shows a tremendous maturation both of songcraft and sonic experimentation. BREAKING ranges aesthetically from the driving indie rock of "Frozen," to pulsing, danceable pop on "Hold Me Down," and from folk on "Will You Remember Me?" to the alternative rock of "Stand My Ground," with myriad genre and stylistic variations in-between.
As the front-man and sole permanent member of the band Twilight's Moon, Brian has been creating music for more than a decade. From 1998 to 2007, Twilight's Moon released seven studio albums and two EP's; 2003's "Broken Windows" was the band's most recent full-length album and 2007's "In The Meantime" was the band's most recent EP. In addition to critical acclaim for his work with Twilight's Moon, Brian has also been successful behind the scenes - at the age of 18, his marketing and promotional work on The All-American Rejects' debut album earned him three RIAA certified sales awards, including gold and platinum records and a gold DVD sales award.
Brian will begin touring in late 2009 in support of BREAKING, performing both solo acoustic and full band concerts in the United States and abroad. In addition, with national radio and press campaigns beginning in the summer of 2009 and music videos scheduled in support of the singles "Stand My Ground" and "Frozen," Larsen's music will be exposed to an ever-increasing group of listeners.
###