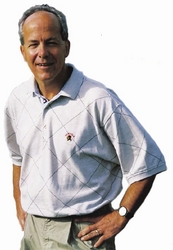 I know how lucky I am to work in either vein - new course or classic restoration
Amherst, MA (Vocus) March 31, 2009
Renowned golf course designer and UMass Amherst alumnus Brian Silva will share his story - from student to award-winning nationally prominent designer - in Memorial Hall at the University of Massachusetts Amherst on Wednesday, April 8, from 4:00 - 5:00 p.m. All are welcome to attend this discussion, titled, "My Best Design Decision: The Path from Stockbridge to Success." The presentation is a part of the Eleanor Bateman Alumni Scholar in Residence Program, sponsored by the UMass Amherst Alumni Association.
Principal of his own firm, Brian Silva Design in Dover, NH, Brian Silva has been designing new golf courses and renovating existing ones for more than 25 years. One of golf's leading interpreters of vintage design, he has earned nationwide recognition for his celebrated renovations of dozens of America's most revered courses. Silva says, "I had worked for many years in the common 'contemporary' style - but then I woke up one morning and said to myself, "Hey, you love these old courses by Ross, Raynor and others... you should do more to follow their lead." His next two courses were Waverly Oaks and Cape Cod National, for which he received high acclaim from people knowledgeable in course design and design history.
"I know how lucky I am to work in either vein - new course or classic restoration," Silva says. "The new courses have far more varied challenges, and offer the opportunity to make a unique statement in your design on behalf of your client." But classic restoration also has its joys, he adds. "There is something to be said for walking the same ground as did a great golden age architect and using historic materials such as original plans and vintage aerials to put their work 'back'; a process that consistently reminds me that these golden age architects were brilliant in their work."
Silva earned his associate's degree in turf management from the Stockbridge School of Agriculture. He earned a bachelor's degree in landscape architecture and did graduate work in plant and soil sciences at the University of Massachusetts Amherst.
The Eleanor Bateman Alumni Scholar in Residence Program is offered on campus by the UMass Amherst Alumni Association, to promote synergy and communication between students, distinguished alumni and other members of the campus community. The goal of the program is to provide students with role models that exemplify achievement of the university's mission through professional accomplishments and/or public service, and is one way in which the Alumni Association uses its resources to enhance the value of the student experience and maintain a lifelong relationship with alumni.
The University of Massachusetts Amherst Alumni Association represents over 215,000 alumni around the globe, and provides programs and services to enlighten, strengthen and develop students, faculty, staff and alumni. For more information, go to http://www.UMassAlumni.com. For more information about this program, call 800-456-8627.
Media Contact:
Norma Heim
413-577-0312
# # #