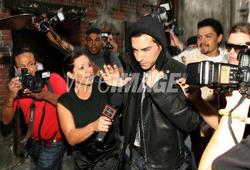 Brian is the type of powerful-new strain of recording artist in today's new music industry that can turn major corporations and record companies around and put once failed labels, back on the map.
Los Angeles, CA (PRWEB) February 11, 2010
Songwriter, producer, performer, firebrand and global powerhouse package -- Brian Anthony is poised for international mainstream superstardom. You would think he is signed to a major record deal with millions invested at first glance, but this young entrepreneur has been successful so far due to hard work, lots of heart and an undeniable passion for creating new music while conquering the "unknown" with new technology in an ever-changing music industry.
Brian has a very unique success story of having topped the charts with each "indie" release, and placing them in major motion pictures distributed by the number one studio on the planet, 20th Century Fox. These films included the animated feature "Garfield 2: Tail of Two Kitties", "Fantastic Four: Rise of The Silver Surfer", "Dragonball:Evolution", and most recently "Aliens In The Attic", starring Ashley Tisdale. All these releases have charted on UK Club Charts, Spain Sales Charts and even in the Top 10 of U.S. Billboard Dance Charts.
Additionally, he's credited significant music licensing with major corporations obtained all on his own -- without the aid of an agent, manager or any guidance at all. These placements range from one of his ballads, "Champion", becoming an inspirational anthem for the Special Olympics - complete with shooting a music video on the Great Wall of China, to having music licensed to rep campaigns of massive conglomerates such as Wal-Mart.
Somehow, amidst everything else, Brian finds time for charity, as well. During this past Christmas 2009, he released a holiday single called "One Wish" (feat. Jeff Timmons of 98 degress) [Motown/UMG] with a portion of its proceeds donated to support three charities: AmFar, fighting world AIDS, The One Campaign, to irradicate world poverty, and The American Red Cross, a global charity chosen specifically to support the families of fallen soldiers who are financially and emotionally distressed due to losses of loved ones fighting in Iraq. And in light of the Haiti disaster, funds will be contributed to redcross relief efforts overseas. This latest dance remix project for "Electricty" (included in the Christmas project) snagged the #1 Billboard Breakout Position surpassing icons like Madonna feat. Lil' Wayne, Kelis, and Three 6 Mafia feat. Tiesto. "Electricity" is currently #36 at U.S. Billboard on the Hot Dance Club Play Chart and the remix package just rolled out for radio/club promotion in the UK.
Representing the new business model for restructured company Jamster (bought by FOXMOBILE), Brian provides original music for exclusive content, including video tones, ring tones, wallpapers and downloads. In this deal, Brian is taping a reality show called "Becoming: Brian", chronicling his unusual and almost surreal road, and rise in this mind boggling music business of today. Because of this, Brian and his "indie" label are in talks about branding and sponsorship to support his "straight to mobile" show with globally recognized clothing, food, and lifestyle corporations. In addition, Brian now also has network interest in "Becoming : BRIAN", by producers of major reality shows currently airing. This would run in tandem with the series of five to seven minute "mobisodes" fortifying the marketing effort.
It's no wonder Qadree El-Amin of SouthPaw Entertainment--who has managed the likes of famed icons Boyz II Men, Janet Jackson, Tyrese, and now Mya -- scooped Brian right up. Qadree admits, "Brian is the type of new - powerful strain of recording artist in today's music industry that can turn major corporations and record companies around and put once failed labels, back on the map." They're currently gearing up for an int'l promo tour including dates in Canada, the UK, China and the U.S. - kicking things off in Los Angeles at club 'Cherry BOOM!' on February 20th, 2010. If you are an innocent bystander or a devoted fan, prepare to possibly be captured on camera, as every performance while on tour promoting "ELECTRICITY", including the forecasted crowd of two thousand plus club goers that Saturday night in LA, is being taped for his FOX Mobile reality series. If that's not a crowd draw and an excuse to add fuel to the fire, with a lil' extra chaos and crazy -- don't know what is! Should definitely make good TV!
No question about it, with his chartbusting track record on the dance charts around the world, coupled with his latest release's promo tour inciting an electrical surge internationally, it seems we've found a future pioneer in music and media technology, not to mention, the world's next future Pop Icon. For more detailed information on Brian Anthony please visit: http://www.briananthony.com, and http://www.sognirecords7entertainment.com • View teaser mobisodes of "Becoming: Brian" thru Fox Mobile/Jamster, and more at: http://www.youtube.com/briananthonytv
# # #