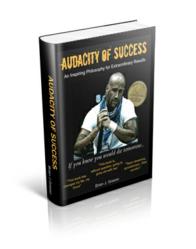 "Two sentences from the book summarize my takeaway... "Your legacy is whatever you say it Is." and "The power is in your choice." Audacity of Success is poignant and powerful, empowering and enlightening."
Greg Justice (USA)
Montreal, Quebec (PRWEB) October 15, 2012
Brian Grasso, former CEO for one of the largest and most internationally-acclaimed organizations within the fitness and sport industry – has finally put his hat down in that industry to pursue his passion for writing.
Released today, his highly anticipated self-published eBook "Audacity Of Success" is the first among many collections. Coined a collection because in it contains 7 stories or legacies imparted to Brian over his lifetime that have helped him achieve the successes he has today.
Starting with his own romantic legacy, which is very much a "Feel the Fear and Do It Any Way" account of how life can transform with a simple leap of faith. Faith in yourself; faith in others and faith that what is meant to be will be. Brian details to readers how he, despite all methods of internal questioning, managed to dump his entire life in Chicago to chase after the woman of his dreams (now his life partner) in Montreal. Together Brian and Carrie have created a life that has become wildly desirable for others around them.
Their love story – one that others dream of - perpetuates 7 key philosophies of living that breed harmony and happiness all around them. Yes, it starts with having faith, but as the book unfolds, readers learn that there is much more to it than faith. They learn about these 7 philosophies of living and just how powerful they really are when taken seriously.
Interlacing his story, with the encounters Brian has with others through his life, readers can see how these philosophies grow bigger and grander over time. Readers learn how a deeper understanding of each reveals itself.
The core chapters in "Audacity of Success" teach without blueprinting how important it is to "Be Authentic", "Be Audacious", "See Yourself and Others", "Follow The Kaizen Path", "Declare and Proclaim", "Cultivate Your Legacy" and "Be A Nexus".
These chapters don't spell out a road map for these philosophies; but they do inherit similar outcomes as if they had. Readers of the pre-release version have great praise for this book. In fact, many readers have shared lengthy reviews on their own accord for it as well.
Extracted from those reviews, the following praise may provide further insight on just how powerful these life lessons are for others:
"Two sentences from the book summarize my takeaway... "Your legacy is whatever you say it Is." and "The power is in your choice." Audacity of Success is poignant and powerful, empowering and enlightening." Greg Justice (USA)
"Contrary to many other books in its genre, it does not attempt to sell you something you already have. And, despite the change of date, tomorrow never comes without an awareness of today. This mitigates our chronic pursuit of acquisition by allowing us to stop for just a single moment. The power and realization within that pause is far more immense than any prior or subsequent movement. Our lives are exactly what we say they are, and the choice in that recognition, alone, is all we need to begin ascending." Danny Matos (USA)
"Brian's masterful story-telling drew me in so completely that before I knew it, his journey had become mine... elegantly forcing me to evaluate my own life, my own choices, my own truth." Laura Waage (USA)
"This book, is without question, going to grow old with me" it will become a companion, a guide, a friend from now on, we both will become a little worse for wear, dog eared, creased down the centre, maybe a little stained, sun bleached and weather beaten, from our hours spent in coffee shops, parks and beaches. Time spent assessing, re assessing, the fact I still have faith I the path I'm on. The path I was made aware of, from reading this book. This has changed my life, allow it to change yours. Already these words, "… This book has changed my life, my focus". Craig Lowe (Scotland)
About Brian Grasso: Brian Grasso, Co-Founder of Free Thinking Renegades Inc. and FTRNation.com is passionate about living a life fulfilled. Through his writing (not only on his blog and in his books), his motivational speaking as well as his spoken word career his goal is to help others be extraordinary, or rather inspire them to give themselves permission to be. Co-creatively with his audience he is breaking down years of barriers for individuals across the globe. He is touching lives, creating waves in the ocean. You can read more at http://www.BrianGrasso.com