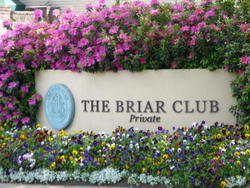 The Briar Club fitness team is very excited to open The Loft featuring XRKade to our members. We think this is going to be tremendous for our members, especially the tween and teen population
Houston, TX (PRWEB) May 6, 2009
The Briar Club, (http://www.thebriarclub.com), announced today the opening of The Loft featuring XRKade active gaming equipment within the newly remodeled 4,500-sq.ft. Wellness Center. The Wellness Center will house a dedicated group exercising area for Pilates, yoga, dance and martial arts training, as well as the dedicated XRKade area.
Designed by iTech Fitness, The Loft featuring XRKade is a virtual reality arcade that mixes fitness with gaming, allowing participants to become part of the game interactively. This is the first XRKade system anywhere in the state of Texas, and The Briar Club is the first private club in the entire United States to install an XRKade facility.
"The Briar Club fitness team is very excited to open The Loft featuring XRKade to our members. We think this is going to be tremendous for our members, especially the tween and teen population," said Rich Andrae, Director of Wellness and Recreation for the Club.
The Loft featuring XRKade will offer youth (ages 7-18) and adults alike a variety of games that promote physical activity. The XRKade facility will feature multiple flat panel TVs and a variety of interactive workout stations. The initial interactive stations will include a dance game, snowboard game, a lighted game floor that has 25 different games for up to four players at a time, and a lighted nine-bag kick boxing system to help hand/eye coordination. There will also be four Expresso Fitness Bikes featuring internet virtual reality courses and tracking of progress and two Exergame bikes with Controllers and PlayStation video games all tied to movements on the bike. Central to the XRKade experience is that participants become "Human Joysticks" and have to use their body and actions to play all the games and activities.
"Recent studies have shown that 84% of kids stayed on XRKade games for 45 minutes straight, sustaining average heart rates of 142 beats per minute," said Mike Hansen, iTech president and CEO. "That is exactly our goal: offer kids the opportunity to get a workout on a regular basis, but also offer them the opportunity to do something they love which is gaming and interactive experiences. We're excited to have such a great place in Texas as The Briar Club."
"The Briar Club is excited to reveal its Wellness Center along with the state-of-the-art XRKade area. This not only allows our tween and teen population a reason to workout more to combat the growing trend of childhood obesity, but also supplies a fun, interactive facility in which families can workout together," said Richard Lareau, general manager and COO, The Briar Club. "Using gaming technology to improve people's health goes to support the mission of The Briar Club - to provide a family-oriented, healthy environment. The fact that The Briar Club is the first place in Texas to roll out XRKade is even more amazing. I'm excited for our members."
The Briar Club Amenities
The Briar Club has something for all ages. Our members can enjoy outdoor heated pools throughout the year, tennis courts, fitness and wellness centers, as well as beautiful dining facilities in the Lounge, Grille, or Poolside Grille. Other amenities include:

The complete Aquatics Program with a Family Pool, Lap Pool, and Children's Pool
A 18,000 Fitness Center with spa amenities completed in January 2005
The brand new Wellness Center to be completed in May 2009.
Seven tennis courts with our tennis professionals on hand to assist all ages in being the best tennis player! Our tennis program includes instruction for all ages, including "Little Tennis" which teaches the game to children as young as 3 years old!
Conference and catering for any event, large and small.
About The Briar Club:
Founded in 1949, The Briar Club offers outstanding amenities including the new 4,500 sq. foot state-of-the-art Wellness Center. The comprehensive facility offers the latest in exercise equipment, an elaborate Reformer Pilates studio, steam rooms, massage therapy, and complete sports pro shop. Our superior staff includes Olympic athletes, dynamic motor skill professionals, and world-renowned sports trainers. Seven tennis courts, a large heated family pool, a heated, six lane, 25 meter lap pool and a sports pavilion featuring basketball, volleyball, and covered sports area making The Briar Club a destination for Houston's inner city families, seniors, and singles. Prestigiously located near River Oaks, West University Place, Bellaire, the Museum District, and Galleria areas, the Club occupies five full acres at 2603 Timmons Lane in Houston, TX. For more information, please call 713-622-3667 or visit http://www.thebriarclub.com.
###