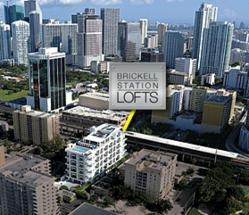 Brickell Station Lofts offers great values to renters looking to live in spacious units in the Brickell area.
Miami, FL (PRWEB) February 17, 2012
Brickell Station Lofts is located at 100 SW 10 Street, Miami was sold by Interinvestments Realty® for $17 million. It consists of 63 units, 1 and 2 bedroom residences, ranging from 910 – 1355 square feet.
Javier Cardenal-Broker and Commercial Director of Interinvestments Realty®- brokered the transaction. Brickell Station Lofts is walking distance to Mary Brickell Village, restaurants, cafés and all the night life that this highly coveted area offers.
"Our Commercial Department had a very successful year in 2011. We were able to close numerous commercial transactions which included a Medley Distribution building, occupied by Preferred Freezer Services, that sold for $28.6 million. The Medley Distribution building is considered one of the highest priced Industrial properties sold in the South Florida area," says Emilio Jose Cardenal, Broker/President of Interinvestments Realty®.
"Interinvestments Realty® has been in business for 20 years. Last year the brokerage added 44 new associates to its South Florida operation, bringing their sales force to over 300 sales associates and international affiliates. Our expansion included our state-of-the-art Broward branch office, which is now open for business at 2806 Weston Road, in Weston, Florida," concludes Cardenal.
###