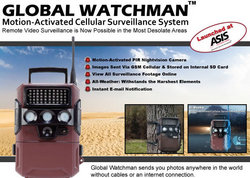 The ability to monitor remote locations from virtually anywhere on the globe turns the surveillance industry on its head
Anaheim, Calif. (Vocus) September 21, 2009
BrickHouse Security, a leading provider of security and surveillance products to more than 500 local and national law enforcement agencies and the majority of Fortune 500 companies, today announced its new Global Watchman monitoring device at the ASIS conference for security professionals. In the past, image-capture monitoring products have been constrained by battery strength, severely limiting the distance over which they could transmit images and shortening their battery life. To overcome this limitation the Global Watchman employs cellular networks to transmit images from its motion-activated camera to a user's computer or cell phone the moment the image is captured .
"The ability to monitor remote locations from virtually anywhere on the globe turns the surveillance industry on its head," said Todd Morris, BrickHouse CEO. "This new combination of cellular transmission, extended battery life, and all-weather protection provides professionals with capabilities they've never before had at their disposal. These capabilities can rewrite current approaches to patrolling remote locations, monitoring warehouses, and keeping an eye on places they wouldn't otherwise visit for months on end."
The company chose ASIS 2009 as a venue for launching this important product given its role as the most influential industry event for the 22,000 security professionals expected to attend. Said Mr. Morris, "We're excited to be exhibiting at ASIS and are certain that the Global Watchman will create quite the buzz here."
Not just professionals
BrickHouse Security is launching the Global Watchman at a discounted price of $599, a price it expects will attract customers beyond government agencies and surveillance professionals. With its ease of use and one-of-a-kind features, businesses and consumers can use it to actively watch their properties for trespassers or thieves, protecting not only their possessions but also their families or employees. Adds Mr. Morris, "I'm sure there are plenty of uses we haven't even thought of yet."
Groundbreaking product features

Cellular surveillance that requires no cables or local Internet connection
Motion-activated PIR nightvision camera
Images sent via cellular and stored on internal SD card
View all surveillance footage online
All-weather: Withstands the harshest elements
E-Mail notification when motion is detected
Image sent through cellular networks
Retrieve images & manage cameras from computer or mobile phone
Motion-activated cellular surveillance system
Makes remote video surveillance possible in the most desolate areas
For more information on the Global Watchman motion-activated Cellular Surveillance system, visit http://www.brickhousesecurity.com/cellular-surveillance.html . The company is also reviewing reseller inquiries and can be contacted directly at 800-242-3556
About BrickHouse Security
BrickHouse Security provides security and surveillance products to consumers, businesses of all sizes including roughly half of the Fortune 500, and more than 500 local and national government agencies such as the NYPD, LA County Sheriffs, and the FBI. To help its customers protect what they care most about, the company offers a range of leading-edge safety, protection, GPS tracking and counter-surveillance products. BrickHouse Security's industry-leading experts seek to be the go-to source for all of its audiences' needs by providing timely information through the company's informative blogs and content, and by identifying, developing, and selling quality products that represent the best and the latest in safety and security. The company is headquartered in New York City and serves a diverse US and international client base.
Media Contact
Jason Lazarus
Director of Marketing
BrickHouse Security
646-253-9131
###