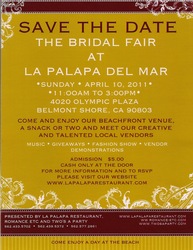 Creative vendors and designers offering ideas and booking services that brides can easily incorporate into their dream wedding
Long Beach, CA (PRWEB) March 25, 2011
A "BRIDAL BOUTIQUE" is the idea behind this wedding fair being held on April 10, 2011 at La Palapa Del Mar, where you meet handpicked, reliable and talented vendors to help you design and create your special day.
This event is hosted by local business owners: La Palapa Del Mar - a beachfront ceremony site, restaurant and event venue, Two's A Party - a wedding planning and styling company, and Romance Etc. - a floral design studio, specializing in centerpieces and event décor. The hosts, with years of experience in the wedding industry, felt the time had come time to create a showcase of local wedding and event vendors to help promote business within the community as well as some truly unique vendors from surrounding cities.
The fair will include a beachfront mock ceremony,a photo booth, photographers and videographers, a fashion show, bridal dresses and bridesmaid dresses, tuxedos, hair stylists, make-up artists, skin care professionals, invitations, wedding planners, florists, cake sampling, live music and even a live event painter. Throughout the day guests have the opportunity to win exclusive giveaways from both wedding professionals and local businesses.
"Bridal fairs have been a great way to see current wedding trends up close and offer a variety of services under one roof," says bride to be Melissa Ames. "It also makes it convenient for me to meet with multiple vendors in one day."
The bridal fair begins at 11:00 AM and runs until 3:00 PM. Admission is $5.00 per person, cash only at the door. R.S.V.P. for guaranteed entry at http://www.lapalaparestaurant.com. Ample parking is available for a small fee at the Belmont Pier, the Olympic Pool lot or free street parking.
# # #