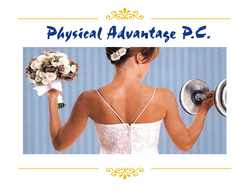 Our mission is to get brides in the best possible shape to embark on their new life - without drugs or plastic surgery
New York, NY (PRWEB) April 7, 2011
Physical Advantage PC, the sports and performing arts massage center in Manhattan with notable clientele such as athletes from the New York Islanders to the New York Giants and stars of Broadway and film, today announced the launch of The Bridal Body Shop designed to get the Bride-to-be in the shape she wants to be in for her wedding day.
Laurie Towers, founder and CEO of Physical Advantage created The Bridal Body Shop to extend her knowledge of fitness to the bridal world to help brides get in shape for one of the most important days of their lives and instill the mindset that any investment you make in your body and well-being today you will profit from greatly throughout your lifetime.
What makes the The Bridal Body Shop different is that Physical Advantage offers brides the option of taking the Bridal Body Shop workout in the convenience of their own homes - from Manhattan to Staten Island and beyond.
The program is tailored to suit the individual needs of the client and includes nutritional counseling and a custom-designed exercise program. Sessions range from kettle bells and free weights to floor work and cardio activity. Duration and frequency is flexible to suit the schedule and desire of the bride-to-be in this busy time.
"Our mission is to get brides in the best possible shape to embark on their new life - without drugs or plastic surgery," says Laurie Towers CEO and founder of Physical Advantage. "Our personal trainers will create a fitness and diet plan designed specifically for the individual's needs for health and lifestyle, and those of their loved ones. With our 'Bridal Body Shop,' it couldn't be easier and safer for the bride-to-be to get in the shape she's always wanted to be in."
The Bridal Body Shop's expert service includes:
-A specifically designed exercise program created by certified professionals
-Guided use of kettle bells, free weights, floor work, isometrics, cardio, yoga and more
-Nutritional counseling
-Constructing your future in the privacy of your own home
-Your choice of male and female trainers for everyone's comfort and convenience
The Bridal Body Shop is also available to the full bridal party, including the groom and his groomsmen to help them get in shape and look their fit best on the big day.
For more information about The Bridal Body Shop and other services, visit http://www.thebridalbodyshop.com/ or call 212-460-1879.
For more news updates and information, follow Laurie Towers on Twitter @MassMogul.
About Physical Advantage PC
Perennially named to New York Magazine's 'Best of' issue and featured on Fox 5 Television, and LA Radio, Physical Advantage has established itself as Manhattan's premiere "serious" rehabilitative massage center. With a celebrity who's who of clientele that include professional athletes, marathoners and triathletes, dancers, actors, and opera singers who regularly visit Physical Advantage to get the kinks out and help their bodies heal, recover and renew. All Physical Advantage therapists and personal trainers are licensed and certified and are skilled at providing treatments designed for both short-term pain relief and long-term results. For more information please visit http://www.physical-knead.com.
# # #