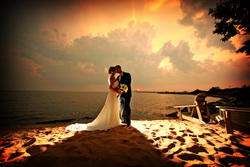 "Today's economy calls for the wedding industry to be more innovative with a wider range of choices for special events. Our Wedding Package for 2010 is just one of the ways we are meeting their needs, and WOWing their guests at the same time." says Erin J
Stevensville, MD (PRWEB) December 2, 2009
The first Bridal Show of the 2010 Wedding Season is the Chesapeake Bay Beach Club's 9th Annual Waterfront Bridal Show, which also marks the Beach Club's 10th year in business. This year's Showcase will feature the Club's facility dressed in its finest décor, focusing on creative approaches to give today's Bride innovative and fun ideas for planning her wedding.
Once again, each ballroom of the Beach Club's gorgeous waterfront wedding venue will be decked-out in a different wedding theme. Each "roomscape" will allow guests the opportunity to participate in various scenarios throughout the complex to gather creative ideas and interact with the vendors who have created these dynamic displays. Vendors will introduce the latest wedding styles, trends, and artistic flair in a more interactive setting. In addition, two runway –style fashion shows will feature the latest in wedding styles for the entire Bridal Party and a mock wedding ceremony.
As Maryland's premier location for waterfront wedding ceremonies, receptions and events, the Beach Club consistantly provides its clients with one-of-a-kind waterfront venues paired with outstanding personal service and excellent cuisine. Laura Butler, a recent bride at the Beach Club says, "The CBBC has the beautiful views, the wonderful staff, and the knowledge from being in business for over 10 years to make your wedding truly special. The food, service, and attention to detail made our wedding day completely flawless. No bride-to-be should miss this opportunity to check out this wonderful venue."
In addition to showcasing themselves, the CBBC will also introduce attendees to their newest property, the Historic Tidewater Inn, Easton, Maryand. Beach Club Owner John Wilson, Acting General Partner for the Tidewater Inn, states "For the last 10 years we have successfully marketed our unique wedding amenities to the Annapolis, Baltimore and Washington areas. With a few updates we plan on doing the same with this timeless property."
The Beach Club is also introducing special packages at this year's Bridal Show. "Today's economy calls for the wedding industry to be more innovative to provide price conscious Brides and their families with a wider range of choices for their special event. Our Wedding Package for 2010 is just one of the ways we are meeting their needs, and WOWing their guests at the same time." says Erin Janes, Wedding and Events Director.
The 9th Annual Waterfront Bridal Show takes place on Sunday, January 3rd, 2010; from noon to 4pm. Tickets are $10 in advance and $15 at the door. The Chesapeake Bay Beach Club is located at 500 Marina Club Road, Stevensville, MD 21666. Visit http://www.baybeachclub.com to obtain advance tickets. Contact 410-604-1933 for more information. Open house tours of the Beach Club are held every Saturday from 9am – 11am. No appointment is necessary.
###