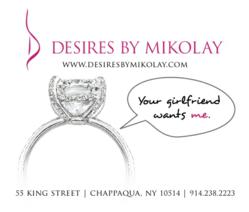 Prospective brides love our trunk shows as we serve wine, have great giveaways, and educate our guests on purchasing a diamond.
Chappaqua, NY (PRWEB) September 18, 2012
Desires by Mikolay, 'The Best Place to Buy an Engagement Ring' (Best of Westchester winner 2012) is known for their personalized engagement rings which are the a direct reflection of their customers tastes and style.
Amavida Bridal will be co-hosting with Desires an exclusive 2-day Trunk Show on Friday September 21st and Saturday September 22nd. A trunk show gives prospective brides a chance to view hundreds of designs in a fun and no-pressure setting. But this trunk show is not just for brides! Amavida also offers remounting options for those who are looking to reset their existing Diamond or colored gemstone. Kate Middleton's gorgeous Sapphire ring has inspired many to set their colored gemstone into a new mounting. Desires by Mikolay's estimates are complimentary and trying on for fun is encouraged!
This special event kicks off with a cocktail party on Friday from 5-8pm, followed the next day on Saturday from 10-6pm.
Desires by Mikolay is known for their special events and trunk shows. The major draw for this event is the Mikolay's are offering 10% off any Amavida Bridal engagement rings these two days only. Other perks are attendees will be entered to win a $500 gift certificate towards the ring of their dreams. And let's not forget the fabulous gift bags!
Many brides are going custom. The desire to be unique and to have a ring that is individual to her is an emerging trend in jewelry design. The Mikolay's expect a large turnout, as Amavida is one of the most sought out designer jewelry lines known for their elegant selection of white gold engagement rings.
Desires by Mikolay is located at 55 King Street in Chappaqua, NY. Desires is Westchester's unparalleled choice for jewelry, timepieces and gifts.
For more information on this event contact Tara Mikolay tara(at)desiresbymikolay(dot)com.