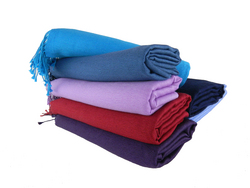 Lively colored pashminas are a fun and easy way to brighten up a wedding party.
Houston, TX (PRWEB) July 20, 2010
The Pashmina Store, an online retailer offering luxury cashmere products at value prices, today announced the results of a survey with the popular bridal blog WeddingBee. More than 311 brides voted on their favorite colored pashminas to be worn by themselves or their bridesmaids on their wedding day. The exotically-hued Moroccan blue was a top choice, along with several other shades of purples and blues that included midnight blue, light blue, peacock blue, electric and royal blue, as well as aquamarine, royal purple, cranberry, and lavender. Classic neutrals such as charcoal, black and natural were also popular choices.
"Our line of blues is especially popular among brides this season. Luckily we have a full spectrum of blues and purples that suit the needs of just about any wedding," said Nattakitta Rhodes, Vice-President of Design for The Pashmina Store.
Pashminas make classic keepsakes for bridesmaids, mothers, and special guests. With more than 50 colors to choose from, brides can add bright pops of color that complement flowers and dresses, while keeping their favorite women cozy. Pashminas can also be stylized with brooches or feather pins to fit this season's vintage-glam theme weddings.
"Brides are looking for a way to personalize their bridal party with bright and fun colors, while giving their girls gifts that will last beyond the wedding day. Brides today are bucking the bridal white tradition, and lively colored pashminas are a fun and easy way to brighten up a wedding party," said Cathy Schroeckenstein, Editor in Chief of WeddingBee.
The Pashmina Store also just announced new, lightweight Water pashminas stoles, which are ultra-soft and sheer and made in Nepal with the longest and finest cashmere hairs possible. The result is an elegant, airy fashion accessory that is comfortable, yet lightweight enough to fold compactly into a small clutch. Water stoles are made with single-ply 70% Grade A cashmere and 30% silk, and are ideal for warmer seasons and climates where they give just the right touch of warmth for breezy nights and chilly air conditioning. Water stoles are offered in 14 sumptuous bright and neutral colors that are sure to match any outfit or occasion. Water stoles come in size 22"x80" and are priced at $49.99.
About The Pashmina Store
On the Web since 2001, The Pashmina Store has been proud to offer the finest quality pure pashmina and pashmina/silk blend blankets, shawls, wraps, scarves and cashmere blankets. Customers enjoy the entire experience with quality products at exceptional values, free standard shipping in the U.S from Texas, and a satisfaction guarantee.
###