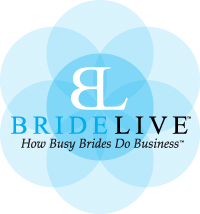 I'd say for any bride, having a vendor that makes meeting easier and reduces stress is worth their weight in gold
Los Angeles, CA (PRWEB) February 08, 2012
BrideLive.com, the hot new video conferencing solution created specifically for the wedding industry, recently announced the release of their new mobile apps, making it even easier for wedding vendors to connect with today's busy bride.
Released in mid-2011, BrideLive.com has taken the wedding industry by storm with the unveiling of their cutting-edge virtual video conferencing platform. Already compatible with Windows, Mac and Linux operating systems, the new mobile addition to the BrideLive.com suite of online video conferencing tools allows wedding vendors to reach out and showcase their services to any bride who may be using an iPhone, iPad or Android enabled smartphone or tablet.
"With BrideLive.com, we are giving vendors the competitive tools needed to keep up with today's busy brides as well as helping them provide a way to alleviate the stress a bride may feel from constantly being on the go. I'd say for any bride, having a vendor that makes meeting easier and reduces stress is worth their weight in gold. " – Michael Hernandez, Owner, BrideLive.com.
Brides who are planning on attending a meeting through BrideLive.com from their iPhone, iPad or any Android enabled smartphone or tablet, can download the new app for free directly from the iTunes or Android App Stores. Once inside a BrideLive.com virtual meeting, they will be able to communicate face-to-face with their vendors, view portfolios, interact with planning forms and most importantly relax from the comfort of their own home.
For all iPhone, iPad or iPod Touch devices, users can download the BrideLive.com Mobile App from Apple iTunes or by clicking this link.
For all Android enabled phones or tablets, users can download the BrideLive.com Mobile App from the Android Marketplace or by clicking this link.
About BrideLive.com
Headquartered in Sherman Oaks, California and based on technology that has been in development and commercial production for over eight years, BrideLive.com launched in 2011 as a custom software company and is frequently recognized for its rapid sustained growth, product excellence, and superb multi-media user interface. Through their cutting-edge technology BrideLive.com has been able to provide a web-based virtual meeting space used by wedding planners, photographers, DJs, florists and other professionals in the wedding industry who wish to leverage the power of online, personalized meetings to convert leads, grow sales, and save time.
For more information on BrideLive.com please visit http://www.bridelive.com or call 888.796.9906.
###