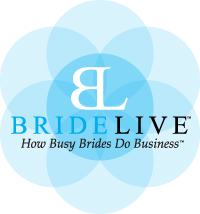 Between our new Mobile apps, customized MeetUsNow pages, and the amazing work our team has done with the VoIP, BrideLive is better than ever. It is the greatest feeling in the world to share this solution with so many people
Los Angeles, CA (PRWEB) February 16, 2012
As the wedding and portrait photographers of the world embark upon Las Vegas next week for the WPPI Annual Convention, BrideLive.com would like to announce that they will be waiting with open arms to greet them. From Monday, February 20, 2012 to Wednesday, February 22, 2012 BrideLive.com will be showcasing their new cutting edge, web-based customized virtual meeting space solution, developed specifically for the wedding industry.
This will be BrideLive.com's first time exhibiting at the Wedding and Portrait Photographers International (WPPI) Convention being held at the MGM Grand, and according to Bob Scott, Owner of BrideLive.com "We are very excited to be attending WPPI, not only to see what is new and unique in the way of Wedding Photography, but to show off BrideLive.com as well. We have had some groundbreaking upgrades to BrideLive.com in just the past few months. Between our new Mobile apps, customized MeetUsNow pages, and the amazing work our team has done with the VoIP, BrideLive is better than ever. It is the greatest feeling in the world to share this solution with so many people."
BrideLive.com will be setting up shop in Booth #1569. They will be doing product demonstrations all day, which will give not only those who have heard of BrideLive.com, but those passing by the booth the opportunity to see the product in action. In addition to product demonstrations, the BrideLive.com team has set-up a special treat for those attending WPPI. "BrideLive.com has given us the ability to meet and work with some of the greatest Event Professionals from around the world, and we always love to see them at these events, "stated Bob Scott "We are very excited to have Rob Adams of Rob Adams Films and Vanessa Joy of Vanessa Joy Photography dropping by our booth to speak about Photo Fusion, and their amazing Adobe CS5 add-on."
WPPI will be hosting a brand new event called the WPPI Launch Pad, which the BrideLive.com team will also be attending, demonstrating their product and answering questions. This event is scheduled to take place on February 19th from 2pm to 5pm, a day before the tradeshow doors open.
BrideLive.com will be providing WPPI attendees with many opportunities to get their hands on one of the hottest tools available to the Wedding Photographer, so whether you stop by and see them at the pre-show WPPI Launch Pad or chat with the team in Booth #1569, BrideLive.com's web-based customized virtual meeting space solution is a must see for anyone attending WPPI.
About BrideLive.com
Headquartered in Sherman Oaks, California and based on technology that has been in development and commercial production for over eight years, BrideLive.com launched in 2011 as a custom software company and is frequently recognized for its rapid sustained growth, product excellence, and superb multi-media user interface. Through their cutting-edge technology BrideLive.com has been able to provide a web-based virtual meeting space used by wedding planners, photographers, DJs, florists and other professionals in the wedding industry who wish to leverage the power of online, personalized meetings to convert leads, grow sales, and save time.
For more information on BrideLive.com please visit http://www.bridelive.com or call 888.796.9906.
###