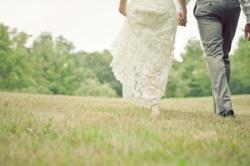 Brides often regret not hiring a videographer to capture their big day.
Boston, MA (PRWEB) February 28, 2013
After months of planning, once the wedding is over, brides often take time to reflect on their big day. Many brides have spent years imagining what their nuptials would be like, only to have regrets. While each couple has their own style and priorities when it comes to their special day, many of the regrets are the same:
5. Letting the bridal party get too big
Many brides want to make sure that they don't leave anyone out of their fabulous affair. So, they end up with bridesmaids they feel like they should have, rather than just people they want to have in their wedding party.
While large wedding parties are a lot of fun, they can also be a logistical nightmare. If people are coming from out of town, there are travel schedules to coordinate and dress fittings to arrange. Costs for a large wedding party add up quickly and many brides end up regretting not drawing the line at a smaller number.
4. Not putting someone else in charge
It makes sense that many brides want to control every detail of their wedding before the big day, but they often regret not handing over the reigns on the day of the wedding. Being the point person on their wedding day can create unnecessary stress for brides.
Instead, they wish they would have hired a day-of wedding coordinator or put a trusted friend in charge to field questions and handle minor issues that come up throughout the day.
3. Missing important photographs
It's not until couples get the photos back from their photographer that they realize they missed important pictures from their wedding day. Having a shot list and going over it with the photographer (and wedding coordinator, if the bride has one) ensures that brides get all of the photographs they want from the wedding.
2. Skipping the videographer
Weddings are one of the most important events in a couple's life. Brides often regret not hiring a videographer to capture their big day. The day goes by so fast and brides can't be everywhere at once, so they are bound to miss important moments from the ceremony and reception. A wedding video is a great way to relive touching moments like the couple's vows and the speeches at the reception.
1. Not slowing down and cherishing the moments
The number one regret brides have is not slowing down to enjoy their day. When the big day finally comes, brides often get caught up in the whirlwind of the ceremony and reception, and forget to really enjoy all of the special moments. Later, they regret not taking the time to cherish their guests and, of course, their groom.
ABOUT MCELROY WEDDINGS:
McElroy Weddings, a division of McElroy Films, is an award-winning high definition wedding videography and photography company serving all of Massachusetts and New England. The team of excellent and experienced Boston videographers, professional audio, and professional HD cameras such as Canon DSLRs and Sony EX. McElroy Weddings guarantees top quality coverage of every aspect of your wedding day and beyond.
For more information call 1-888-203-2744 or visit http://www.mcelroyweddings.com.