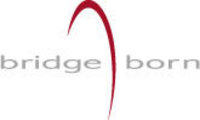 We are most pleased and very fortunate to have attracted two talented individuals in Mike and Trevor to join our Board of Directors
Virginia Beach, VA (Vocus) May 20, 2008
Bridgeborn, a leading systems design, engineering and integration company, today announced the appointment of Michael Dering and Trevor Chaplick to its board of directors.
"We are most pleased and very fortunate to have attracted two talented individuals in Mike and Trevor to join our Board of Directors," said Bridgeborn Chairman and CEO, Tim Ambrosino. "Each brings tremendous experience paired with an aggressive and entrepreneurial outlook that supports Bridgeborn's strategic plan and rapid growth posture. Their stewardship at the Board level will help insure Bridgeborn's continued success."
Mr. Dering has over 25 years of experience in the technology industry. Most recently, Mr. Dering was CEO of ServiceBench. Under his leadership, ServiceBench has experienced rapid growth by developing innovative "Service Management On-Demand" solutions, attracting prestigious new customers and expanding internationally. ServiceBench was recognized by Deloitte as one of the 500 fastest growing technology companies in North America. Prior to that, Mr. Dering was President and CEO of CrossAccess Corporation, a multi-national venture-funded software infrastructure company that focuses on integrating corporate business functions with new e-business applications. Prior to joining CrossAccess, Mr. Dering served as president and CEO of two Bell & Howell companies. Under Mr. Dering's leadership, Bell & Howell Mail and Messaging Technologies (MMT) doubled its profits and grew its revenue to $500 million while building a broad customer base including major telecommunications carriers. Previously, Mr. Dering had a 20-year career at TAB Products Company, a $170 million publicly traded manufacturer of information storage and retrieval solutions for office environments. Mr. Dering is a graduate of University of Maryland, College Park.
Mr. Chaplick is currently a Partner and co-head of Proskauer Rose's Washington, D.C Office. Prior to joining Proskauer Rose, Mr. Chaplick was the founder and former managing partner of Wilson Sonsini Goodrich and Rosati's Washington, D.C. office. Mr. Chaplick has a long history working with technology and growth companies as well as underwriters, private equity firms, and venture capital funds. In this capacity, he has represented numerous companies in raising venture capital and other private financing from institutional investors across many of today's most important industries including software, e-commerce, communications, the Internet, and entertainment. Mr. Chaplick also serves in a number of professional and community associations including as: Chairman of the Board of Directors of the Venture Capital Fund of the State of Maryland; and co-chair of the outreach and sponsorship committees of the Mid-Atlantic Venture Association. Mr. Chaplick is a graduate of the University of Virginia School of Law and the McIntire School of Commerce at the University of Virginia.
Dering and Chaplick join a board chaired by Bridgeborn CEO and co-founder, Tim Ambrosino. Ambrosino is an entrepreneur that boasts a strong background in Information technology, interactive media and architecture. He has over 25 years experience leading companies and a track record of building successful, dynamic new business ventures through a blend of technological and business expertise.
About Bridgeborn
Bridgeborn is a systems design, engineering and integration company that delivers innovative IT Solutions to the Federal Government and Commercial markets. Clients include DHS, JFCOM, USAID, and US ARMY.
Bridgeborn is a privately held company headquartered in Virginia Beach, VA with offices in Arlington, VA, Annapolis, MD and Savannah, GA. For more information, go to http://www.bridgeborn.com or call us at 757.437.5000
# # #