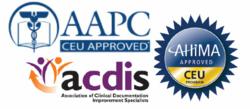 "We feel this is the most beneficial educational product on the market and highly recommend it! Certainly there is set-up involved, but compared to other systems it is very minimal with little maintenance." Connie Proctor, INTEGRIS Grove General Hospital
Vancouver, WA (PRWEB) October 25, 2012
To assist healthcare in their coding practices and with the mandated adoption of ICD-10-CM and ICD-10-PCS in October 2014, BridgeFront now offers a complete Coding and ICD-10 Education solution for coders, HIM, billing, clinical and leadership.
"We feel this is the most beneficial educational product on the market and highly recommend it," said Connie Proctor, INTEGRIS Grove General Hospital. "Certainly there is set-up involved, but compared to other systems it is very minimal with little on-going maintenance. Long story short, you rock!"
Known for its highly regarded revenue cycle and compliance education in healthcare, BridgeFront now expands its education with a new Coding and ICD-10 Education solution. The new and expanded program includes eight libraries on coding proficiencies, anatomy and physiology, ICD-10 for leadership, an introductory on ICD-10, and intensive proficiency training on ICD-10 coding.
The ICD-9 Coding education library enables organizations to develop and retain a strong coding team. Each element of ICD-9 coding is discussed, such as identifying the criteria for assigning a principal diagnosis and the principal procedure.
The CPT Coding education library also enables organizations to develop and retain a strong coding team. This library enables coders, billers, case management, and CDI professional to master the fundamentals of CPT coding.
The Anatomy & Physiology education library instructs on all major body systems, guiding staff to improved coding and documentation improvement. This library is critical for staff prior to the increased clinical specificity of ICD-10.
The ICD-10 Implementation on the Fast Track education library is recommended for leadership; the program takes a deep look at the impact of the transition on payment and productivity. It emphasizes the necessary steps to achieve the best financial outcome.
The ICD-10 Preparedness education library is a two-hour self-paced program that lays a crucial foundation of knowledge that all employees must understand going into the ICD-10-Cm and ICD-10-PCS transition.
The ICD-10 Clinical Documentation Improvement (CDI) education library instructs on the coding changes and additional specificity that clinical documentation will need from providers under ICD-10.
The ICD-10 Fundamentals of Coding education library provides an in-depth look at the differences between ICD-9 and ICD-10 codes, and discusses all major changes to guidelines with explanations of the new conventions.
The ICD-10-CM and ICD-10-PCS Advanced Coding education library is a highly interactive and intensive educational program designed to help coding, case management, and CDI professionals achieve mastery of ICD-10.
The online learning format for all BridgeFront courses allows organizations to maximize staff productivity and build mastery, while delivering and monitoring education across the organization. BridgeFront's Online Education Center allows eemployees to complete courses via any internet-connected computer or smart phone. Managers, with a click of a button can assign courses, set due dates, send reminder emails, and track progress and performance of every employee enrolled.
"Healthcare organizations are experiencing an incredible amount of change today, such as ICD-10. The ICD-10 transition will have a profound impact on all healthcare organizations," says Peter Cizik, CEO at BridgeFront. "This newly expanded Coding and ICD-10 education solution offers our clients the critical education their staff needs to navigate this complex regulatory change and improve coding proficiencies prior to the transition."
To learn more about BridgeFront's Coding and ICD-10 education, go to http://www.bridgefront.com. You can also contact BridgeFront directly at 1-866-447-2211.
Not sure where your ICD-10 readiness stands? Assess your organization's progress with BridgeFront's ICD-10 Readiness Tool.
About BridgeFront:
Effective, customizable and budget-friendly; BridgeFront helps healthcare, government and businesses provide the highest quality of staff education. You have the flexibility to take any online course as-is or modify it, and even build your own courses. For over ten years, BridgeFront has provided engaging online education on compliance, revenue cycle, patient communications, clinical, leadership and now ICD-10.
###