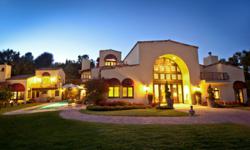 The residential environment is more conducive to treatment because patients feel comfortable in an environment that they are use to.
Pacific Palisades, CA (PRWEB) July 01, 2012
The caring staff at Bridges to Recovery now offers treatments designed to assist clients on their road to a healthier and more productive life. With locations in Bel Air, Pacific Palisades and Santa Monica, patients are sure to get the therapy they need in an ideal residential setting.
New Treatments
As an alternative to receiving care in a hospital setting, Bridges to Recovery now offers intensive psychological and mental health treatment in a residential environment. The residential environment is far more conducive to treatment because patients feel comfortable in an environment that they are use to. These new treatment plans are personalized to fit the needs of individual patients. One-on-one counseling and group sessions are conducted by experienced mental health professionals. These new therapies can treat these specific conditions:

Mood Disorders – As a top depression treatment clinic, patients can also be treated for other mood conditions such as bipolar disorder and feelings of unresolved grief.
Anxiety Disorders – The best California residential treatment for anxiety awaits patients at Bridges to Recovery. Conditions in this category may include intense phobias, acute stress and other disorders. People who suffer from panic disorders can also feel secure in knowing that they are in the hands of the best panic treatment center Los Angeles has to offer.
Disorders from Trauma – Trauma-based disorders can make it exceptionally difficult for people to properly manage their lives. Specific conditions may include posttraumatic stress disorder and problems arising from past sexual, physical or mental abuse. Borderline personality disorder, which can be the result of enduring traumatic experiences, can also be treated.
New methods of treatment include:
Individual psychotherapy
Yoga
Art and music therapy
Acupuncture
Anger-management therapy
Individual somatic experiencing
Grief and loss therapy
Aftercare planning
Staff
A team of psychiatrists, psychologists and psychoanalysts who have received the highest levels of education are available to provide assistance and support to patients. Group therapists and somatic experiencing therapists are also available. In addition to mental health professionals, Bridges to Recovery offers chefs, housekeepers, masseuses and fitness trainers.
A Typical Day at Bridges to Recovery
The day begins with journal writing and a personalized session with a psychotherapist. As the day progresses, patients will attend a series of group therapy sessions in order to encourage healthy interactions and support during the treatment process. Sessions of a less intensive nature, such as nutritional counseling and activities promoting physical fitness, will take place later on in the day. Hours after dinnertime are reserved for activities like yoga, meditation and acupuncture.
Bridges to Recovery offers new effective psychiatric residential treatment in a safe and comfortable setting. The new therapies offered can help patients regain control of their lives. Visit http://www.bridgestorecovery.com to learn more information.