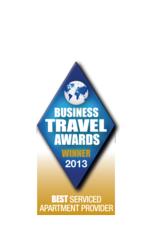 Herndon, Va. (PRWEB) January 23, 2013
BridgeStreet Residences, Serviced Apartments and Suites is honored to have been named Best Serviced Apartment Provider at the 18th Business Travel Awards in London on Monday, Jan. 21. Judged by an independent panel of business travel buyers, BridgeStreet's recognition furthers its position as a leading global provider of residences, serviced apartments and suites, surpassing four other nominees to win its third award in the category since 2010.
BridgeStreet's accolade stems from vastly successful corporate social responsibility, staff attentiveness and customer feedback, which were identified in a question-based evaluation reflecting a range of areas and skills that lie at the heart of any prosperous travel firm or department.
"In what is always one of the toughest categories to judge, it was BridgeStreet's strong brand in the corporate world and its trademark service guarantee which shows commitment and quality, that the judges were impressed with. The judges also found the winner's grading system very useful, simple to use and consistent in helping buyers make decisions," reveals 2013 Business Travel Awards judging comments.
Organized by Buying Business Travel – the U.K.'s leading corporate travel magazine for large and mid-size company travel buyers, the Business Travel Awards recognize and celebrate achievements of the travel industries leading businesses, teams and individuals who performed outstandingly in their chosen field over the last 12 months.
"BridgeStreet is delighted to receive this notable award celebrating hospitality excellence in the business travel industry," says CEO Sean Worker. "As proud providers of preferred business travel accommodations, it is an honor to be recognized for our superior service by industry buyers and enthusiasts."
As a supportive and actively involved member of the business travel community, BridgeStreet also proudly sponsored two categories at the 2013 Business Travel Awards, including Best Sales Account Management Team and Best Business Travel Management Company (less than £50 million U.K. annual sales). Hosted in the great room of the famed Grosvenor House in London, the Business Travel Awards' 1,250 attendees enjoyed a champagne reception, sumptuous gala dinner and full program of entertainment, including the highly anticipated announcement of 2013 award winners.
With more than 50,000 apartments in over 60 countries, BridgeStreet is the leading global provider of fully furnished residences, serviced apartments and suites for travelers seeking an alternative to typical hotel accommodations. BridgeStreet's 5-star Residences, 4-star Serviced Apartments and 3-star Suites combine the luxuries of apartment living and benefits of hotel amenities, with a variety of service packages to offer each guest more options. Widely recognized for uncompromising standards of quality, comfort and service, BridgeStreet is a renowned award winner in both the Americas and EMEA.
For more information on BridgeStreet, visit http://www.bridgestreet.com or call +44 (0) 20 7792 2222 / 1(800) 278-7338. To learn more about how BridgeStreet can assist with your Serviced Apartment program, contact Jo Layton, senior vice president, sales – EMEA at +44 (0) 20 7313 2861 or jo.layton(at)bridgestreet(dot)com.