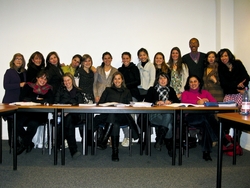 The course has resulted in a satisfaction not only of trainees but their also of their employers, who until now had no real alternative to training in teaching English to non-native speakers.
Santiago de Chile (PRWEB) October 26, 2010
BridgeTEFL has recently established its first Authorized Training Center (ATC) in Santiago de Chile in partnership with the Universidad Finis Terrae. UFT has been approved to offer the International Diploma for English Language Teaching (Bridge IDELT™) for non-native speaking English teachers. This is the first time that an internationally recognized certification for Teaching English as a Foreign Language has been available to Chilean EFL teachers for university credit.
UFT launched the first Bridge IDELT™ course for 20 teachers from the Metropolitan Region of Chile. It is offered as a post-graduate diploma and is held part-time in the evenings. The course is comprehensive, covering all of the key aspects of effective English language teaching. It also provides practice teaching sessions with English-language learners, so that teachers can apply what they are learning to real-life classroom situations.
Marilú Matte, the education coordinator at UFT's Center for Continued Education, explains "The current policies of Chile's Ministry of Education aim to ensure that all students leave school with basic English, to facilitate their integration into the globalized world. Additionally, there are a significant number of private and public schools that elect to supplement the ministry's official English curriculum. This creates a demand for teachers not only with language skills but also with a grasp of teaching methodology. The diploma we offer in conjunction with Bridge meets this significant need for training. The first course has resulted in a satisfaction not only of trainees but their also of their employers, who until now had no real alternative to training in teaching English to non-native speakers."
Bridge is happy to be able to provide Chilean teachers with this opportunity for professional growth. Christine Ng, Head IDELT Trainer in Chile, states: "many English teachers in Chile struggle to keep up-to-date with best practice in ELT due to a lack of professional development activities available to them. The Bridge IDELT™ is an incredibly useful course for improving their teaching, and for raising their confidence in the EFL classroom."
In a recent interview, Cristian Bravo, a Chilean EFL teacher with five years of teaching experience at various levels in his home country, expresses his reasons for taking the Bridge IDELT™. "I wanted to go deeper into methodology and […] this course was a perfect fit for me. I have taught for five years in Chile at different levels in colegios and I can already see that this course will be very useful in helping me to become a more effective teacher in the English classroom."
The Bridge IDELT™ course includes sessions on language skills (reading, writing, speaking, and listening), language systems (vocabulary, pronunciation, and grammar), classroom management, lecture preparation, and multimedia use in the classroom, along with professional guidance and career placement assistance.
For more information on the Bridge IDELT™ and Bridge's partnership with Universidad Finis Terrae, contact Lisa Rooney at BridgeTEFL: 303-785-8895 or lrooney (at) bridge (dot) edu.
About BridgeTEFL:
A division of Bridge Linguatec, Inc. d/b/a/ Bridge, BridgeTEFL is the largest provider of TEFL (Teach English as a Foreign Language) courses in the United States, training over 3,000 teachers annually.
About Bridge:
Founded in 1983, Bridge Linguatec, Inc. d/b/a Bridge is a world leader in language, education and travel. An international company with headquarters in Denver, Colorado, Bridge offers a wide spectrum of language related products and services, including language training and immersion programs, teacher training and development courses, language testing, translation and interpretation services, and cross-cultural travel programs including international service learning, language study and teaching English abroad.
###