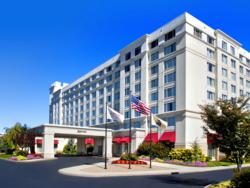 Bridgewater, NJ (PRWEB) May 02, 2011
Tbones Restaurant at the Bridgewater Marriott will be offering a special Mother's Day Champagne Brunch in the hotel's ballroom on Sunday May 8, 2011, from 11:00 am to 3:00 pm.
The Mother's Day Champagne Brunch is $53 for adults and $16.95 for children ages 4 to 12. Children under 4 are free. Price does not include New Jersey sales tax or gratuities. Reservations can be made by calling 1-908-595-2006.
Along with a Champagne and Mimosa station (opens at 12 noon), the sumptuous brunch will feature the following menu:
BREAKFAST STATION

Omelets & Belgian Waffles made to order
Banana Caramel Stuffed French Toast
Bacon, Sausage, Breakfast Potatoes
Fruit Carving Station
Breakfast Pastries
COLD SEAFOOD STATION

Smoked Salmon and Accompaniments
Individual Rock Shrimp Ceviche
Ocean Crab Gazpacho
Shrimp Cocktail
Raw Bar—Shucked Oysters and Clams
New Zealand Mussels with Gazpacho Relish
COLD FOOD STATION

Antipasti and Artesian Cheese display with Lavash, Flatbreads, Grissini and Ciabatta, Focaccia, Marinated Olives, Hummus, Rocket Pesto, Grilled Vegetables, Artichokes, Roasted Peppers, Tapenade Romesco
Heirloom Tomato, Fresh Mozzarella Salad
Iceberg Wedge, Feta, Cucumber, Tomato
Traditional Caesar Salad with Sourdough Croutons
Mixed Greens with Pomegranate Seed and Blood Orange Vinaigrette
WARM PIADINA STATION

Interactive Chef Station
Warmed Italian Flatbreads topped with the following:
Prosciutto Ham, Garlic Aioli and Micro Arugula
Heirloom Tomato & Fresh Mozzarella
Wild Mushroom, Herbed Ricotta, Truffle Oil
HOT ENTREES

Slow Braised Beef Short Ribs with Parmesan Herb Risotto, Citrus Gremolata
Chicken Saltimbocca with Lemon Thyme Buerre Blanc
Asian Barbecued Red Snapper with Bok Choy, Steamed Rice, Furikake, and Garlic Soy
Spring Vegetable Medley
Mashed Yukon Gold Potatoes
CARVING STATION

Roasted Breast of Turkey with Orange-Cranberry Compote and Pommery Garlic Aioli Roasted Rib Eye with Creamed Horseradish, Shallot Mustard Sauce, Onion Marmalade, and Mini Pretzel and Brichoe Rolls
CHILDREN'S SELECTIONS

Pop Tarts, Uncrustable Sandwiches, Chicken Fingers, Tater Tots, Pizza Bagels, Macaroni & Cheese, 2% Milk, Chocolate Milk, Apple Juice
DESSERT STATION

Assortment of Seasonal Tarts, Mini Cupcakes, Pastries, Mini Cones with Assorted Mousse,
Individual Mini Shot Glasses: Panna Cotta, Brûlées, Tiramisu, Wine Jellies, Coconut Rice Pudding
Tbones at the Bridgewater Marriott offers an upscale dining experience that meshes authentic Tuscan cuisine with classic American ambiance. The seasonal menu focuses on local, sustainable products. Each dish comes at its freshest and most flavorful best.
The Bridgewater Marriott in Bridgewater, New Jersey offers stylish, well-appointed accommodations featuring Marriott signature bedding and 42" LCD TVs; Tbones a Tuscan Steakhouse; Martini's Lounge; and 11,307 square feet of meeting and event space. For additional information, visit http://www.bridgewatermarriott.com or call 1-888-887-7869.
About Marriott Hotels & Resorts
Marriott Hotels & Resorts is Marriott International's original and most widely distributed brand, with 500 hotels and resorts in 60 countries. Marriott continues to inspire a balanced life on the road for discerning and high-achieving business and leisure travelers, offering warm, professional service; sophisticated yet functional guest room design; lobby spaces that facilitate working, dining and socializing; restaurants and bars serving international cuisine prepared simply and from the freshest ingredients; meeting and event spaces and services that are gold standard; and expansive, 24-hour fitness facilities. All Marriott hotels participate in the award winning Marriott Rewards frequent travel program that allows members to earn hotel points or airline miles for every dollar spent during each stay. For more information visit http://www.meetthedriven.com, or follow us on Twitter, at http://www.twitter.com/marriotthotels.
Visit Marriott International, Inc. for company information. For more information or reservations, please visit our web site at http://www.marriott.com, and for the latest company news, visit http://www.marriottnewscenter.com
# # #