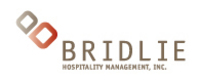 We are also thinking outside the box and looking closely at partnering with lenders that have taken properties back in the last year and providing the needed capital to turn the property around and facilitate a profitable sale and exit strategy in 3 to 5 years
Phoenix, AZ (PRWEB) April 15, 2010 –
Bridlie Hospitality Management announced today that in its ongoing push for more hotel acquisitions, it has reached an agreement with a California based private investment firm which has made $250,000,000 (USD) of capital available to Bridlie Hospitality to pursue acquisitions of 3, 4, and 5-diamond upscale, full-service and selected premium-branded hotels and resorts in major metropolitan and urban markets throughout the U.S. "The focus of the acquisitions will be primarily distressed assets," says Edwin Leslie, President of Bridlie Hospitality. "Our track record of delivering stellar results from the repositioning of underperforming assets in today's market has provided us with a considerable amount of confidence from ownership and investment groups and ultimately, the opportunity for spectacular growth." The plan includes acquiring outright, and partnering with other investors.
"In looking at today's economic climate in the hotel industry we feel this is a perfect time to acquire new assets," stated Lawrence Goldenthal, Vice President and General Counsel of Bridlie Hospitality. "We are also thinking outside the box and looking closely at partnering with lenders that have taken properties back in the last year and providing the needed capital to turn the property around and facilitate a profitable sale and exit strategy in 3 to 5 years".
Bridlie Hospitality Management is headquartered in Phoenix, Arizona with offices in Austin, TX; Orlando, FL; and San Luis Obispo, CA (opening June 2010) and provides a robust suite of solutions for hotel owners including hotel management, oversight management, consulting services, receivership services, litigation support, crisis management, design, development, asset repositioning and asset management. In 2006, Leslie Hospitality Management (est. 1997) joined Bridlie Hospitality Management. With over 150 years of combined experience, Bridlie's executive management team provides leading edge technology, revolutionary thinking, and fresh perspectives to old problems. As experienced owners and operators, Bridlie Hospitality Management sets itself apart from other management companies best by consistently applying an ownership perspective to all management decisions. Bridlie's goal is to maximize the value of each client's asset, maximize the return to investors, and maximize cash flow, all without sacrificing the guest experience.
###