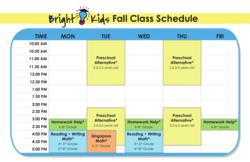 For students looking to prepare early for their spring achievement tests (ISAT, TerraNova, ITBS, CTP-4), the Bright Kids Reading/Writing/Math class is the perfect fit.
Chicago, IL (PRWEB) October 18, 2012
Bright Kids Chicago's goal is to reach as many students as possible by offering enrichment programs that are relevant to a broad spectrum of learners. Whether your child has not yet entered Kindergarten or is ready to enter high school, Bright Kids Chicago has a program for everyone.
For students looking to prepare early for their spring achievement tests (ISAT, TerraNova, ITBS, CTP-4), the Bright Kids Reading/Writing/Math class is the perfect fit. Classes are capped at five students per class so that each student is able to receive one-on-one instruction and attention from the instructor. The classes will meet Mondays and Wednesdays for an hour, starting October 29th, and are split into classes for the lower grades (3rd-5th) and the middle grades (6th-8th). Preparation is especially important for middle school students interested in attending a Selective Enrollment High School, as 7th grade achievement test scores count for one third of the total admissions score for these schools.
The second third of the total admissions score Selective Enrollment High Schools is classroom grades. To help students achieve the grades they deserve, Bright Kids will be offering Homework Help on Mondays, Wednesdays, and Fridays right after school. Students can drop in day-of, or have the option of signing up in advance. They will also have the option to sign up for one class - perfect for students looking to review a specific concept or prepare for an exam - or on a weekly basis – best for students who require more extensive review and reinforcement. The Homework Help program is designed for students in grades K-8 and can be applied to any subject.
For younger students, Bright Kids will be offering two programs that were originally offered in our New York location and were so popular, we are debuting them in Chicago this fall. First is Bright Kids' Preschool Alternative. Studies show that a student develops about one third of their intellectual skills by age six, making it essential to expose young children to academic enrichment. The Bright Kids Preschool Alternative does exactly that, helping them build core skills at a young age. The program combines play-based learning with rigorous instruction, ensuring that your child has the tools they need to be successful when Kindergarten starts, and will give them the foundation to perform well on standardized tests like the Selective Enrollment Elementary Schools exams. The program will run on Tuesdays and Thursdays with a morning class dedicated to students who are 2.5 to 3.5 years of age and an afternoon class for students who are 3.5 to 4.5 years of age.
Students in grades K-2 will also have the opportunity to learn math concepts in a new way. The Singapore Math program is based on Singapore's successful, active thinking model of teaching math, which skyrocketed Singapore to the top of the world, according to the trends in International Mathematics and Science Study. Students in the program will be working with concrete manipulative to develop understandings of basic computation and problem solving. The class will be held on Tuesdays for an hour.