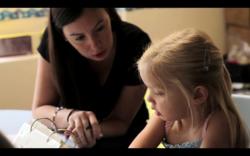 Bright Kids is proud to announce its first testing year in Chicago was a success
Chicago, IL (PRWEB) April 10, 2013
Bright Kids is proud to announce its first testing year in Chicago was a success, with student scores greatly improving over prior years with no test prep, and many students were accepted to top schools at the elementary, middle, and high school level! The competition continues to increase for spots in Chicago Public Schools' Selective Enrollment programs. At the elementary level alone, CPS reports that 13,105 students applied for 1,865 available spots.
A lack of spots did not deter Bright Kids students, who scored in the 93rd percentile and above on the Regional Gifted Centers test, in the 99th percentile in Reading and in the 93rd percentile and above on the Math portions of the Classical Schools exam. Older students achieved total admissions scores well over the 860 mark for both the Academic Centers and Selective Enrollment High Schools exams. Next year, many Bright Kids students will be attending Selective Enrollment schools such as Skinner North, Skinner West, Lane Tech Academic Center, and Northside Prep. Everyone at Bright Kids Chicago would like to acknowledge and congratulate all of the hard work put in by the wonderful team of Bright Kids teachers, and, of course, the bright kids and their families. Without them, none of this would be possible.
Obtaining a spot in a Selective Enrollment School is difficult for two reasons: students must not only score exceedingly well on their admissions test(s), but they must also hope that their family's tier works in their favor. As such, many qualified students in all tiers were shut out of spots in the first round. However, any student with a qualifying score has been placed on a wait list at the schools he/she applied to, so more acceptances are expected in the next few months.
Because of increased competition, many parents with children taking exams during the 2013-2014 school year have already begun exam preparations. Bright Kids Chicago has a number of programs for students at all levels to meet this need.
Students who would like to begin preparation for the Selective Enrollment Elementary Schools tests for entrance into a Regional Gifted Center or a Classical School can start their preparation early at Bright Kids with the SEES Skill Builder Bootcamp. This Bootcamp is meant for students applying to Kindergarten or 1st grade, and it is comprised of a diagnostic, given in the first session and which is used to build a customized curriculum, and five 45-minute tutoring sessions. Students also receive three card decks for at-home preparation. The program is meant to provide instruction with a number of hands-on and worksheet-based activities that are engaging and will develop a student's critical-thinking skills for either or both exams. Students participating in this program can easily transition into the SEES Bootcamp in the fall. Fall SEES Bootcamps consist of a test-format diagnostic, five, seven, or eleven tutoring sessions, and the preparation guides.
Students preparing for the Academic Center or International Gifted Program test have the option of enrolling in a one-on-one SEMS Bootcamp, which includes a diagnostic, five or seven tutoring sessions, and the preparation guides and practice tests, or they can enroll in the fall SEMS exam prep class, which will consist of a diagnostic and seven class sessions. Classes are limited to five students, so that students can still receive individualized attention and differentiated materials.
For older students, those preparing for the Selective Enrollment High School exam this fall, Bright Kids will be offering test preparation classes this summer and fall. These classes will run similarly to the aforementioned SEMS class, but the material will focus on concepts necessary for the SEHS exam and will only be open to students going into 8th grade. Summer classes will take place on Mondays at 4 p.m. for 75 minutes, starting July 1.