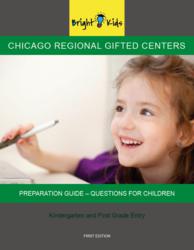 Whether your child has not yet entered Kindergarten or is ready to enter high school, Bright Kids Chicago has a program for everyone.
Chicago, IL (PRWEB) November 29, 2012
Bright Kids Chicago's goal is to reach as many students as possible by offering enrichment programs that are relevant to a broad spectrum of learners. Whether your child has not yet entered Kindergarten or is ready to enter high school, Bright Kids Chicago has a program for everyone.
Spring achievement tests are quickly approaching for students in public and private schools. For students in 3rd to 8th grades looking to prepare for their ISAT or private school achievement test (TerraNova, CTP-4, ITBS), the Bright Kids Reading/Writing/Math class is the perfect fit. Classes are capped at five students per class so that each student is able to receive one-on-one instruction and attention from the instructor. Each class meets once a week for 90 minutes, and there are six- and eight-session packages available. While preparation can help improve any child's scores, preparation is especially important for middle school students interested in attending a Selective Enrollment High School in Chicago, as 7th grade achievement test scores count for one third of the total admissions score for these schools.
In addition to annual achievement testing, the Naperville Community School District administers its Academically Talented tests to all students in 3rd to 5th grades each April. Scores earned on these tests (the CogAT and ITBS), combined with teacher recommendations, place students in a number of Academically Talented programs for elementary school students. To help students prepare for these long, arduous exams, which are given over a week-long span, Bright Kids is offering an Academically Talented class! The 75-minute classes will be held on Saturdays at 10am to allow families from Naperville to travel to Chicago for preparation. The class will have eight sessions with the option to add on two more during holiday weekends. The class will cover material from both the CogAT and ITBS along with test-taking strategies that can be applied to both exams.
For younger students, Bright Kids will be continuing its Preschool Alternative. Studies show that a student develops about one third of their intellectual skills by age six, making it essential to expose young children to academic enrichment. The Bright Kids Preschool Alternative does exactly that, helping them build core skills at a young age. The program combines play-based learning with rigorous instruction, ensuring that your child has the tools they need to be successful when Kindergarten starts, and will give them the foundation to perform well on standardized tests like the Selective Enrollment Elementary Schools exams. The program will run on Tuesdays and Thursday afternoons class for students who are 3 to 4 years of age.
These programs are in addition to Bright Kids' Selective Enrollment Bootcamps and Test Prep Tutoring Packages, which provide one-on-one focused test preparation instruction to students. For more information on any of Bright Kids' spring programs, email info(at)brightkidschicago(dot)com or call 773-270-9001.