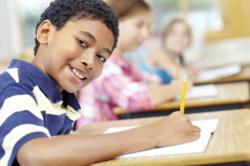 Whether your child has not yet entered Kindergarten or is ready to enter high school, Bright Kids Chicago has a program for everyone.
Chicago, IL (PRWEB) May 02, 2013
Bright Kids Chicago's goal is to reach as many students as possible by offering enrichment programs that are relevant to a broad spectrum of learners. Whether the student has not yet entered Kindergarten or is ready to enter high school, Bright Kids Chicago has a program for everyone.
For those students looking to avoid losing valuable knowledge and skills often forgotten over the course of the summer, Bright Kids Chicago will be hosting a summer session of its popular Reading/Writing/Math class. Classes will be held once a week for 90 minutes over eight weeks, and will be structured to focus on pertinent reading, writing, and math skills to keep students prepared for the upcoming school year. This class includes a diagnostic that will help the instructors create a curriculum for each student based on their current abilities.
If an 8-week commitment this summer is too long due to vacation or other plans, Bright Kids Chicago will have a Fall Kickstarter Program the week of August 19th. Students will brush up on reading, writing, and math skills during 90-minute sessions a day throughout the duration of the program. It is an excellent way to simply get a head start before the school year begins in the fall.
Bright Kids Chicago will also be hosting the Summer Preschool Alternative for children aged 2.5-4 years. While classes will run from June 17-August 23, parents have the option of signing up for a minimum of three weeks' instruction throughout the duration of the summer program. Classes will be held at Bright Kids' office in Lincoln Park on Tuesday and Thursday mornings.
For younger students going in K-2nd grade, Bright Kids Chicago is also offering its Summer Singapore Math program. With the increased use of Common Core State Standards, there has been a larger emphasis on problem-solving mathematics. Based on Singapore's internationally recognized active thinking model of teaching math, this class will help students develop an understanding of basic computation and problem solving. The program includes hour-long classes over the course of six weeks.
This summer, Bright Kids Chicago is excited to offer three new workshops in addition to its usual class offerings for students seeking to focus on a particular skill set. Students may choose to further develop their writing techniques in Bright Kids Chicago's Essay Writing Workshop. Over the course of four weeks, they will learn how to create, edit, and engage in an essay. Classes will be offered starting July 1 for 3rd-5th graders and July 11 for 6th-8th graders.
If a student wants to hone their public speaking skills, Bright Kids Chicago's Public Speaking and Presentation Workshop would be a perfect fit. As students get older, public speaking becomes much more important, and this workshop aims to give them the tools they need to speak comfortably and confidently, whether it is in an interview or in front of their peers. Sessions will be held twice a week over the course of three weeks in July, which will culminate in the students' presentations of their written speeches.
For students who wish to strengthen their ability to observe patterns and solve problems employing a variety of methods, Bright Kids Chicago's Patterns and Problem Solving Workshop is a perfect fit. Students will learn how to think outside the box of traditional math in order to best solve a specific problem, using number and shape patterns, tangrams, the powers of 2, puzzles, and logic. Starting July 29, classes will be offered for upcoming 4th-5th graders and 6th-8th graders to better focus the curriculum on the specific needs and concepts taught in these grades.
Summer is also the perfect time to begin preparing for the Selective Enrollment High School exam. As entrance into these elite schools becomes increasingly difficult, preparation is becoming essential to earning a top score. The course will focus on content of the test as well as valuable test-taking strategies, which are imperative for a student to know come test day. The class includes a diagnostic so that instructors can cater to each individual student as well as written session reports for parents so that they may be able to track the student's progress throughout the class.