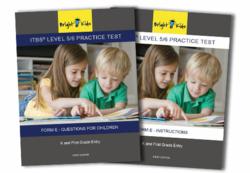 Bright Kids is proud to play a part in helping children succeed when taking the ITBS® and Classical Schools exam.
Chicago, IL (PRWEB) December 28, 2012
The ITBS® looks to determine a student's reading, language arts, and mathematical capabilities, and the Bright Kids Practice Test helps develop those essential skills. At Level 5/6, this exam tests children on a multitude of developmentally-appropriate concepts such as letter identification, vocabulary, ability to follow directions, number sense, arithmetic, and beginning reading using both pictures and words. Students taking the exam as an achievement test during Kindergarten or First Grade will be asked all questions in all sections (although the reading section is not always administered at this level, based on the child's skill set) and therefore this book can be used as an effective practice test.
Students taking the exam for entry into a Classical School in Chicago will be given a shortened version of this exam, so children preparing for this entrance exam can use the more than 200 questions in this book as a preparation guide. Although Chicago Public Schools does not release the name of the test used for entry into a Classical School, the skills tested most closely resemble those tested on the ITBS®. Students taking the Classical Schools entrance exam can expect to see questions relating to vocabulary, beginning and rhyming sounds, listening, more advanced math concepts such as time and money, and beginning reading, all of which are covered in this book.
CPS does not administer every subtest, as evidenced by the amount of time students spend taking the exam. The subtests administered are also subject to change year-to-year, so it is best to enter the exam with a wide range of knowledge, so the child feels as prepared as possible. The ITBS Level 5/6 Practice Test will do just that.
The questions in the practice test are designed to be presented in the style of the ITBS® so that students become accustomed to the format of the exam. These grade levels are combined because the difficulty does not increase. For those taking the ITBS, the test is typically given in a group setting. Students in Chicago applying for Kindergarten entry will work one-on-one with a proctor, who will record the student's answers. Students applying for First Grade entry will take the exam in a small group and will be required to record their own answers using a bubble sheet.
The Practice Test provides a book for parents, which includes Instructions, and a book for students, which includes the Questions for Children. The instructions can be modified for students entering Kindergarten by asking him/her to simply "point" to their answer, whereas First Grade entry students can be asked to "mark" their answer.
Bright Kids is proud to play a part in helping children succeed when taking the ITBS® and Classical Schools exam. Their ITBS® Level 5/6 Practice Test is available now, just in time for testing season. Order yours today!