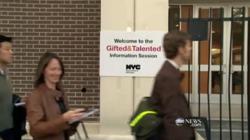 Last year, 88% of students within [Bright Kids'] Gifted and Talented Tutoring Program received qualifying scores of the 90th percentile or higher
New York, NY (PRWEB) July 19, 2012
The New York City school admissions process is difficult to navigate at the best of times. Because there is so much to worry about with applications, Bright Kids NYC is committed to making the test-taking portion as stress-free for families as possible by offering free seminars to schools and organizations. Bright Kids' seminars provide vital information about these admissions exams to families and faculty.
Bright Kids demystifies multiple exams for parents, including the ERB (WPPSI-III, WISC-IV, ISEE), OLSAT, NNAT®2, and Stanford-Binet which are used for admissions into various private schools and gifted programs within the city. As for the annual state exams (English Language Arts, Math, and Regents), Bright Kids delivers informative seminars for families—going over the makeup of these exams, as well as giving helpful tips to prepare children.
Bright Kids has an amazing record of boosting test scores among their students. Last year, 88% of students within its Gifted and Talented Tutoring Program received qualifying scores of the 90th percentile or higher on their admissions exams. Even more remarkable is the fact that 51% of these qualifying students scored at the 99th percentile, while an additional 26.5% scored in the 97th or 98th percentiles. Bright Kids' other test prep programs, including the popular New York State ELA and Math prep classes, yielded similar results.
Bright Kids' admissions seminars last from one to one-and-half hours and include a Q&A session at the end. These can be held at the location of the school or organization, or within one of Bright Kids' two Manhattan offices. Bright Kids also offers group rates to run test preparation classes at local schools and organizations, as well as one-to-one private tutoring for students. In addition, Bright Kids representatives are always eager to continue helping families answer their questions after the seminar has ended.
Specific topics which are discussed during these sessions include:

Test dates and recommendations as to when to begin test prep
How the tests are administered
The material included on these exams
Scoring of exams
Best strategies for preparation
If you're interested in learning more or arranging a seminar at your school or organization, please contact Bright Kids at 917-539-4575 or info(at)brightkidsnyc(dot)com.
Bright Kids NYC Inc. was founded in New York City to educate parents about standardized tests through workshops and consultations and to prepare young children for such tests through assessments, tutoring, and publications.