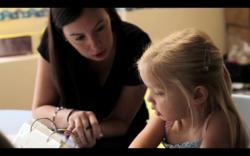 In an effort to make test preparation more accessible to all families, the scholarship offers eligible children a spot in the 8-session 1-on-1 bootcamp at a fraction of the cost.
New York, NY (PRWEB) June 11, 2013
Every year, thousand of students all over New York City compete for the highly selective Gifted and Talented programs. Starting at Kindergarten entry, children test in hopes of securing a position at their district G&T program or a spot at the coveted citywide programs such as Anderson and NEST+m. Bright Kids NYC has been committed to helping families get the best preparation available. Through the Gifted and Talented Scholarship, Bright Kids hopes to provide that same opportunity to all families, preparing their child to succeed on the G&T exam.
The goal of the Gifted and Talented Scholarship program is to promote participation of those students who show great potential to succeed, but whose families do not have the financial means necessary to purchase tutoring services. By reducing the cost of our 8-session Gifted and Talented 1-on-1 Bootcamp, Bright Kids hopes to provide scholarship recipients a chance at academic success regardless of socioeconomic status.
Eligible children will be able to participate in our Gifted and Talented 1-on-1 Bootcamp at a drastically reduced cost. The 8-session bootcamp includes an initial diagnostic, individualized one-on-one tutoring in our downtown office, and preparation books for supplemental practice at home. Families must only cover the cost of the diagnostic at $250 per child.
Eligible children must be born in 2009 and applying to enter Kindergarten in the fall of 2014. Scholarships are limited and awarded on a first-come first-served basis, so be sure to apply right away! Applicants must submit their supplemental materials before the August 15th, 2013 deadline.
Bright Kids NYC continuously delivers record results on the Gifted and Talented exam. This year, 94% of Bright Kids tutoring clients scored at or above the 90th percentile, earning them a spot in the Gifted and Talented program. By comparison, 25% of all G&T applicants achieved this score. In addition, 49% of Bright Kids clients scored in the 99th percentile, the score required to earn a spot at the citywide G&T programs such as Anderson and NEST+m. Bright Kids is uniquely positioned to offer a proven, results-driven tutoring method that will help scholarship students succeed on the exam and attend the G&T program of their choice.